Winter in Chadds Ford
Winter in Chadds Ford has a unique magic that always inspires me to create. Snow-covered hills, frozen streams, bare trees, and robust wildlife are all important pieces of the rustic fairy tale that unfolds here each year during the colder months. It's no wonder that so many winter scenes in this area have been the fodder for some of America's finest works of art – the Wyeth family in particular expressed so much of Chadds Ford's bucolic beauty through illustration. In this article, I wanted to share a few of my favorite outdoor wintertime activities that warm my heart, even if they don't always warm my fingers and toes!
My Favorite Winter Activities
Admiring the Deciduous Trees
Every day, even when it's cold, I try to go outside for a walk. I find that getting out into nature is an instant mood booster – it allows me to clear my head and leave behind any worries that have crept up throughout the previous day. My regular routes often take me by iced-over hedgerows and groves of deciduous trees that have dropped their leaves for the winter. While our robust, leafy trees are certainly majestic in the warmer months, their bare trunks and branches scattered throughout the Chester County landscape make a striking statement. I love admiring their wiry limbs, smooth gray-brown bark, and overall dormant appearance -- they look so still, but they are full of life, simply waiting to burst into bloom in spring.
appreciating the evergreens
In addition to the beauty of our region's deciduous trees, I am regularly awe-struck by the voluptuous presence of our evergreens – pines, spruces, hollies, and so many other recognizable trees remain lush landmarks in what can sometimes be a dour landscape. Evergreens have been regarded by many cultures as sacred signposts of eternal vitality -- they remind us that, even during the coldest months of the year, life and vibrancy can persist. In addition to their symbolic significance, conifers and evergreens provide many important practical benefits to our local bird population and wildlife – their dense foliage allows animals to stay warm and protected, while many evergreens also provide fodder for birds and other small creatures. Our evergreens remind me to get outside and live life, even when it's frigid!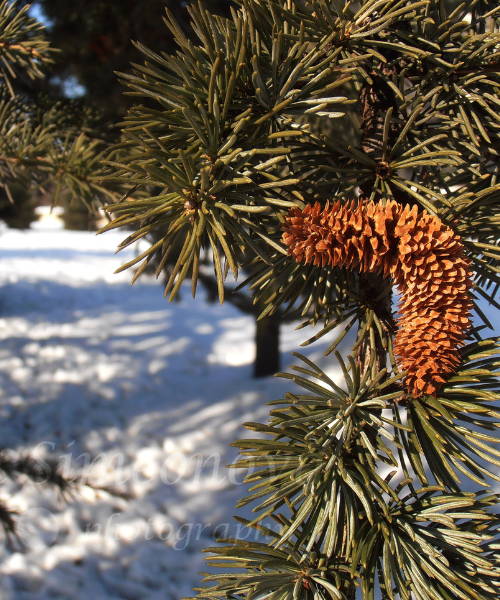 walking through the hills
In Chadds Ford, the rolling country hills are beautiful year round, but they are truly otherworldly when covered in a fresh sheet of unspoiled snow. Walking after a fresh snowfall is always a memorable experience, especially among the picturesque scenes of the Brandywine Valley. Trees and brush are crystalized with a glittering layer of frost, and the sun reflects radiantly off the ice and snow. As I roam, I admire the evergreen garland strung carefully along the fences of pastures and the horses, who are visibly blowing their steamy, sparkling breath into the air. In the distance, an occasional small curl of smoke can be seen emanating from a stone farmhouse and the smell of burning oak and maple fills the air. I can't imagine a more beautiful and inspiring country scene.
The Landscapes Collection
Although many of our region's birds head south for the winter, the local cold-weather contingent of avian wildlife here in Chadds Ford is vivacious and omnipresent! Golden-brown hawks stand out against the snow-covered landscapes, circling above the fields and swooping down into clearings, hoping for some sustenance. Crimson cardinals flit from tree to tree, puffing their feathers up to protect against the cold. Wrens and sparrows forage and chatter among the evergreens, looking for shelter and food. While our local symphony of birdsong is a bit quieter during the winter, I am always so grateful for the inspiration and calm our region's birds bring to both my creative process and my life.
Observing Woodland Creatures
Among the hush of snow-covered woodlands and along the quiet edges of barren fields, winter wildlife is bustling in Chadds Ford. Deer move quietly through the woods, looking for food and crunching frozen leaves underfoot as they dash away from unseen predators. Squirrels rustle through pine needles, searching for nuts they buried earlier in the year. If I get up early enough for my daily walk, I can sometimes spot our local fox, red coat flashing in the sunrise, as he hunts for breakfast. I often pity our local woodland creatures when the temperatures drop severely, but then I remember that they are equipped and completely in their element. I can only hope to be as resilient and resourceful as they are during the depths of winter here in Pennsylvania.
Sterling Silver Collection
For as long as I can remember, I have been inspired by winter scenes here in Chadds Ford. So many of my recent designs here in the shop reflect nature's unique beauty in wintertime, and I hope they resonate with outdoors enthusiasts everywhere. Whether you're looking to stay warm in style or are searching for the perfect gift for someone in your life, my natural keepsakes are certain to make an elegant addition to any nature lover's jewelry box.