Evergreens of Pennsylvania
Evergreens of Pennsylvania
From proud pines to stately spruces and everything in between, our region's evergreens are impressive every season. In the warmer months, they provide dense, verdant cover for our local flora and fauna; when the weather turns cold, their lush greenery stands out against the cool, hushed tones of winter. There is something truly magical about pine trees that have been crystallized by the ice and snow of a recent storm – scenes like this always make me feel refreshed and ready to create. To honor the magnificence of the evergreen, I wanted to share a few of my favorite species with you in this article. Their unique and beautiful characteristics have inspired so many of my recent designs!
My Favorite Evergreens of Pennsylvania
Stately pine trees are a staple here in Southeastern Pennsylvania – in fact, I can't imagine what our landscape would look like here without them. They often grow together in groves, creating magnificent stands of evergreen beauty. Pines can grow to be between 50 and 150 feet tall, and they can live for thousands of years! Pinecones protect seeds from freezing temperatures, and pine needles create a soft bed of mulch below. In our area, pines provide essential cover for birds and wildlife in all seasons but especially in winter, when the deciduous trees have dropped their leaves. Small animals and insects love to burrow in the pine mulch, and birds nestle deep in the protection of the pine's lush foliage. Outside my window, there is a cardinal who, like a small sentinel, uses the pine tree as his post throughout the year -- in fact, this scene was part of the inspiration for our most famous piece, the Sand Birdie!
Holly is widely-recognized by many, with its merry green leaves and bright red berries. While some species of holly are deciduous, the American holly and the European holly are both emblematic of the plants we all think of when we hear our favorite Christmas carols – these species have bright green foliage, pointy leaves, and clusters of crimson berries that grow in the winter that sustain our local wildlife. These berries are poisonous to most domesticated animals like cats and dogs, but birds love them – in fact, cedar waxwings will completely clear out the berries from any American hollies they can find during their migration north. On average, the American holly grows quite wide between 33 and 66 feet wide, and it can grow as tall as 98 feet! I love seeing holly both in the wild and as a jolly accent in manicured gardens, and I always marvel at the beauty of my holly clippings when including them in my festive decorations.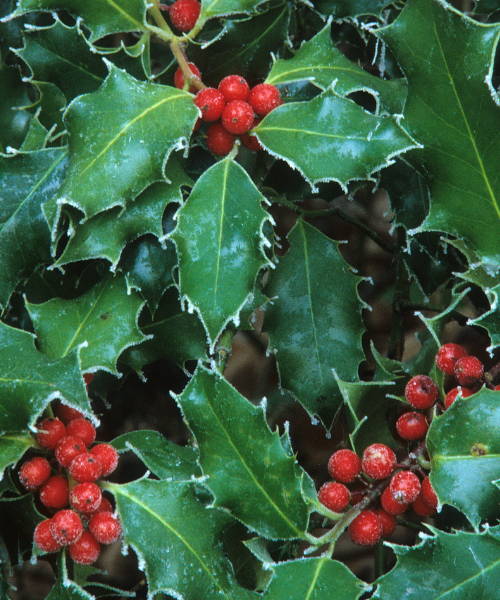 Juniper is a tough plant that can add a unique accent to any landscape. Eastern juniper, which is native to our area, is a slow-growing, thick plant that typically reaches anywhere between 16 and 66 feet in height. Creeping juniper, which is common in gardens and manicured landscapes, is more of a shrub and grows low to the ground – it makes a sturdy, striking ground cover. In fact, I have used creeping juniper as an accent in several places in my own garden. Both of these varieties of juniper have sharp, densely-packed foliage and produce berry-like cones that are blue with a pale, waxy film. Juniper is the host plant for many types of caterpillars, and there are several species of birds that eat the fruit. Juniper cuttings and cones make beautiful additions to garlands and wreaths, but be sure to wear thick gloves when working with this plant – it is beautiful yet pointy!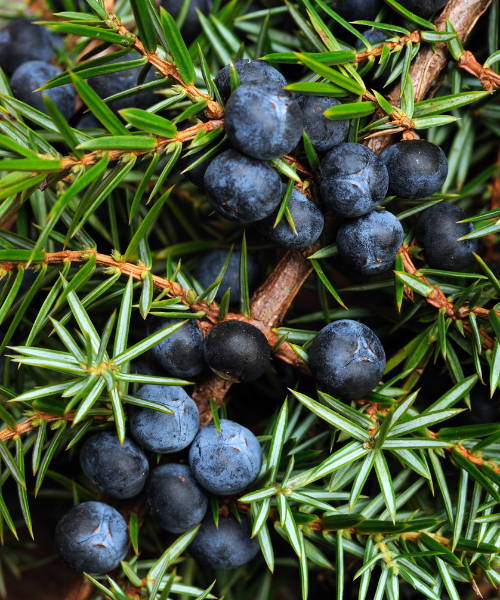 The Landscapes Collection
Spruce trees are majestic giants, gracing our Pennsylvania landscapes with their towering presence and draping, green boughs. The Norway spruce, which originally hails from Europe, is probably the most recognizable tree in our Chadds Ford landscape – it can grow up to 180 feet tall and looks like the quintessential "Christmas tree" with green needles and downward-sloping branches. Its cones are the largest of any evergreen – they hang downward and can grow over 6 inches in size. For hundreds of years, this tree has been harvested for use in paper production, timber, stringed instruments, and even for beer and tea! Also, its longevity is truly remarkable – there is a Norway spruce in Sweden called Old Tjikko, and, at nearly 10000 years old (!), it is believed to be the world's oldest living tree. There are a few large spruces along my favorite walking trail, and I always have to stop and marvel at their grand and impressive presence.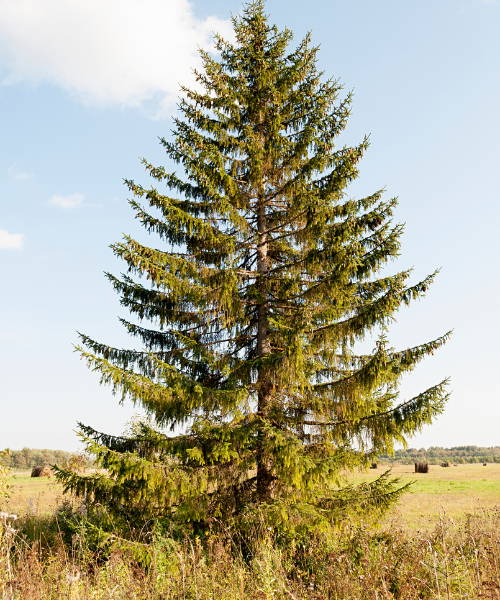 Arborvitae often stand out as part of any landscape due to their unique foliage and rich green color. While many evergreens have needles or smooth leaves, arborvitae have robust, flat, scaly foliage packed tightly on branches that fan out from the main trunk. As a result of their thick, full-bodied formation, many homeowners choose to plant arborvitae together, creating effective privacy screens or dividing lines on their properties. An arborvitae's color can change slightly throughout the year, but its pleasant appearance remains constant regardless of the season. I always love including arborvitae trimmings in my wreaths and garland, as its rich color and unique texture provides a soft, playful accent to any decoration – and its smell is sweet and refreshing! There are many variations of arborvitae, but the American arborvitae is one of my favorite native specimens.
Sterling Silver Collection
When I was developing the Landscapes Collection, I knew it would have to include scenes that depict the iconic beauty of our region's evergreens. Several of the pieces in Landscapes feature towering pines accented by grounding elements of turquoise and sand to showcase the natural inspiration behind every scene. I designed these pieces to capture the rustic elegance that is intricately woven throughout Chadds Ford's picturesque landscapes.
There is something truly magical about a proud pine or a sprawling spruce crystallized in the winter weather. To capture the bright, sparkling essence of an evergreen covered in snow, I knew I would need to forge several of my designs in sterling silver. This precious metal is durable, elegant, hypoallergenic, and affordable, making it the perfect medium for creating evergreen-inspired necklaces, earrings, bracelets, rings, and related accents.
Many of our keepsakes here in the Chadds Ford jewelry shop feature the strong, independent essence of Pennsylvania's evergreens. Whether you love nature or are searching for the perfect gift for an outdoors enthusiast in your life, you won't want to miss our stunning selection of nature-inspired jewelry available now.