Welcome!
I'm Jane, the founder of Chadds Ford Boutique, and I'm so happy you're here. After spending years working in the home, raising three beautiful children, and growing my gardens, there was something important I still wanted to do: start a jewelry business. While I have always enjoyed jewelry design as a hobby, sharing my passion for nature through unique, well-crafted adornments has become a mission close to my heart. With the support of my family, I am delighted to offer my customers a bespoke collection of nature-inspired jewelry designs. These keepsakes feature natural elements and a rustic charm that will resonate with anyone who loves the magic of the outdoors.
The boutique itself is named after the town of Chadds Ford, located on the eastern edge of Chester County in the Brandywine Valley. Chadds Ford is rich with verdant woodlands, sprawling estates, and a storied historical past. Inhabited by the Lenni Lenape Native Americans, settled by the Swedes, and later inhabited by the English Quakers, this little town has experienced a lot! Physically, Chadds Ford provided the theater for the Battle of Brandywine during the Revolutionary War, served as the source of water for mills during the industrial revolution, and was an important junction for the Philadelphia and Baltimore and Wilmington and Reading railroads. Culturally, Chadds Ford is the home of Howard Pyle's Brandywine School of Art. Pyle offered summer classes in Chadds Ford, where famous pupils like Frank Schoonover, Violet Oakley, and N.C. Wyeth came to study – as a result, several generations of Wyeths have stayed in the area, enriching Chadds Ford with their art and philanthropy. The Brandywine River Museum, which features their artwork and history, is not to be missed. As a long time resident of this amazing area, I feel it's my calling to share its magic through my work!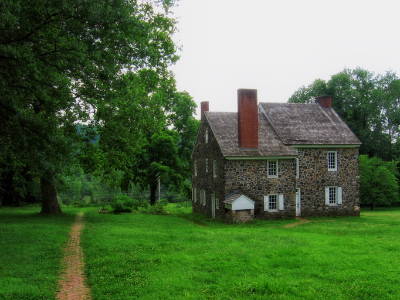 In addition to creating jewelry for Chadds Ford Boutique, I also want to share about my experiences and adventures in the Brandywine Valley. As a parent and grandparent, I am often out and about, exploring places both old and new with my family in Pennsylvania and Delaware! In between designing and curating collections, I plan to share our experiences with you on my blog. I hope you will follow along and, if you're local, take a visit to some of these notable and majestic locations. Fortunately, there is no shortage of beautiful estates, preserves, landmarks, and places to play!

I am really looking forward to sharing my jewelry and experiences with you, and I hope you can find something in my collection that echoes the things you love most about nature.
Warmly,