Behind the Scenes: The Landscapes Collection
Chadds Ford and the Brandywine Valley offer a natural elegance that is echoed throughout my newest jewelry collection: Landscapes. These pieces represent some of my most unique work, and I am proud to present this collection that has been deeply inspired by the rural beauty of southeastern Pennsylvania. In this article, I would like to share a bit about my Landscapes Collection and describe six of the most influential elements of the Brandywine Valley landscape that have shaped my taste in art, style, and culture as it stands today.
The Landscapes Collection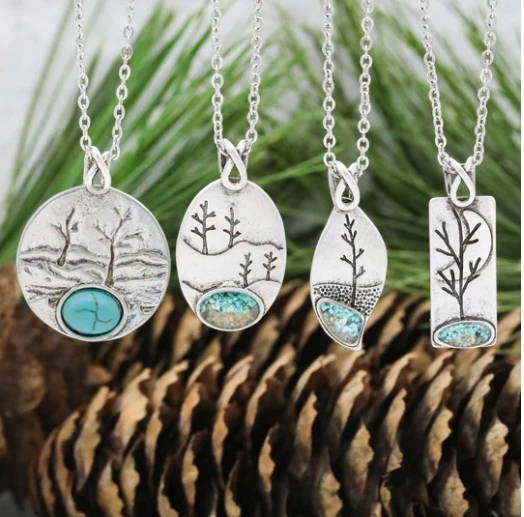 For as long as I can remember, I have wandered through the hills and valleys of Chadds Ford, and marveled at its beauty. In spring and summer, verdant woodlands fill in the gaps between rolling hills, abundant crops, and stone buildings reminiscent of eras that have come before. The Brandywine River winds its way through the region, giving life to the flora and fauna that grace its banks and the surrounding area. In fall and winter, trees flourish into an explosion of reds, yellows, and oranges before dropping their leaves, exposing their rugged, natural beauty underneath. Pines stand proudly all year, but their strength really shines through during the winter months. No matter the season, these images are near and dear to my heart, and the Landscapes Collection is designed to share a few of these special scenes with you.

Each design offers a striking perspective on the essence of this majestic area

Antique, matte silver over a brass base offers an old-world finish that echoes the deep history of the region

Trees feature prominently, showing the deep and fertile roots of Chadds Ford

Turquoise accents provide an elegant, eye-catching flourish in each piece

In some pieces, crushed turquoise and sand combine for a natural whimsy inspired by the Brandywine River

Stainless steel chains are durable and accentuate the beauty of every design
Behind the Scenes: Inspiration for Landscapes
When I decided to harness the magic of Chadds Ford in my work, I knew that I would be drawing upon my favorite scenes and locations from this beautiful area. Here are six quintessential elements that define life and landscapes in the Brandywine Valley:
The Brandywine River, also known as the Brandywine Creek, is perhaps the most famous feature of the Brandywine Valley. Originating in the scenic area of Welsh Mountain, the Brandywine weaves and winds its way for 20 miles before opening up into the Christina River in Delaware. Its waters are calm in some places and wild in others, and its banks feature soft beaches and lush forests, perfect for enjoying the beautiful scenery of southeastern Pennsylvania. In fact, the river itself has been a source of life, culture, and inspiration for many in our region for hundreds of years. In the 1600s, it provided resources to some of our general area's earliest settlers, Delaware's New Sweden Colony. In my hometown of Chadds Ford, the river served as a notable obstacle during the Battle of Brandywine in the Revolutionary War. During the Industrial Revolution, it was the source of power to grist mills and the famous du Pont gunpowder mills located just over the line in Delaware. Ever since I was a teenager, I have loved strolling along its sandy, mossy banks, enjoying the placid, powerful beauty of its waters. It is a major inspiration for much of my creative work.
When I close my eyes and think of my favorite local landmarks, Smith Bridge is always one of the first images that comes to mind. This iconic covered bridge was originally constructed in 1839 near the Pennsylvania-Delaware line, and it straddles the flowing waters of the Brandywine. It is one of two remaining covered bridges in Delaware; though it had to be refurbished after a fire in 1961 and again in 2002, it still bears a traditional, historic appearance with exposed wooden beams and red paint. When my children were small, they always loved the reverberating rumbles our car tires made as they rolled over the wooden planks of the bridge. I even have a framed print of this bridge in our living room, where the bridge sits front and center, covered in snow, exhibiting the unique and established beauty of our region.
Trees are a defining and unmistakable feature of Chadds Ford. Luscious woodland forests fill in the gaps between fields and pastures; they provide a fullness to the landscape during summer before erupting into an array of fiery colors during autumn. In the winter, sweeping groves of pines provide cover to the region's wildlife, and stick trees demarcate the edges of windswept crops that have been left to rest by farmers until spring. The trees in this area have been featured heavily in American artwork, especially by local artists like Andrew and Jamie Wyeth, due to their striking beauty. And it is for that very same reason that I have made their abstract forms a centerpiece of my Landscapes Collection.
Agriculture and a rural way of life are prominent here in southeastern Pennsylvania. During spring and summer, a walk through the heart of Chadds Ford rewards its visitors with landscapes of rolling green hills, tall cornfields, and other bountiful crops that sway and ripple in the wind. While the farmers of our area are responsible for much of our local produce, this area is also home to many Olympians and world-class trainers competing in equestrian sports and horse racing. It's not uncommon to see beautiful sport horses or broodmares and their young grazing happily in tall grass, surrounded by lush woodlands and stands of wildflowers.
Birmingham Hill offers visitors a quiet place to reflect on the meaning and beauty of Chadds Ford and the Brandywine Valley. This hill, flanked by beautiful groves of trees and covered in a luscious meadow of soft grass, stood tall during the Battle of the Brandywine in the American Revolution, and is rich with history. There is a footpath that encircles the hill, offering walkers just over a mile of trail space to enjoy the view and information about the battlefield. I often come to Birmingham Hill for a walk, enjoying the beautiful foliage and birdsong that echoes through the meadow and the woods.
If you live locally or have an interest in the Industrial Revolution, then the du Pont family name is likely something you know by heart. The du Ponts arrived in the United States from France in 1800, and Éleuthère Irénée du Pont established a gunpowder mill in Wilmington, Delaware on the banks of the Brandywine River in 1802. As the du Pont family's influence in the region grew, so did their presence in architecture, philanthropy, and commerce. Many of their estates and conservatories have been well-preserved: Winterthur, Longwood Gardens, Nemours, Hagley, and Mt. Cuba are just a handful of Brandywine Valley landmarks that draw thousands of visitors every year and provide sanctuary for plants and wildlife. The du Pont family estates feature expansive lawns, picturesque gardens, beautiful meadows, and verdant woodlands, and I've developed some of my best ideas for jewelry while walking on their grounds!
I have designed my Landscapes Collection to reflect the beautiful and moving landscapes of the Brandywine Valley, and I hope you can see why! There is something alluring about the nature of this region combined with the powerful history that resides here. I hope you'll find a personal connection with my pieces, which echo the striking and unique elements of this enchanting part of our country.
Our Favorites from Landscapes