Behind the Scenes: Sand Birdie & Friends Collection
Birds have always been a major influence in my life and in my artwork. They are constantly fluttering about in my garden, bringing beautiful colors and a symphony of happy chirping to brighten my day. Even in winter, round robins and diminutive wrens stay put, puffing up to avoid the cold. Crimson cardinals also brave the bleakness, flashing through my garden, and flittering among the trees that sparkle with ice. To honor these beautiful creatures, I'm proud to introduce one of my most personal collections: Sand Birdie & Friends.
The Sand Birdie & Friends Collection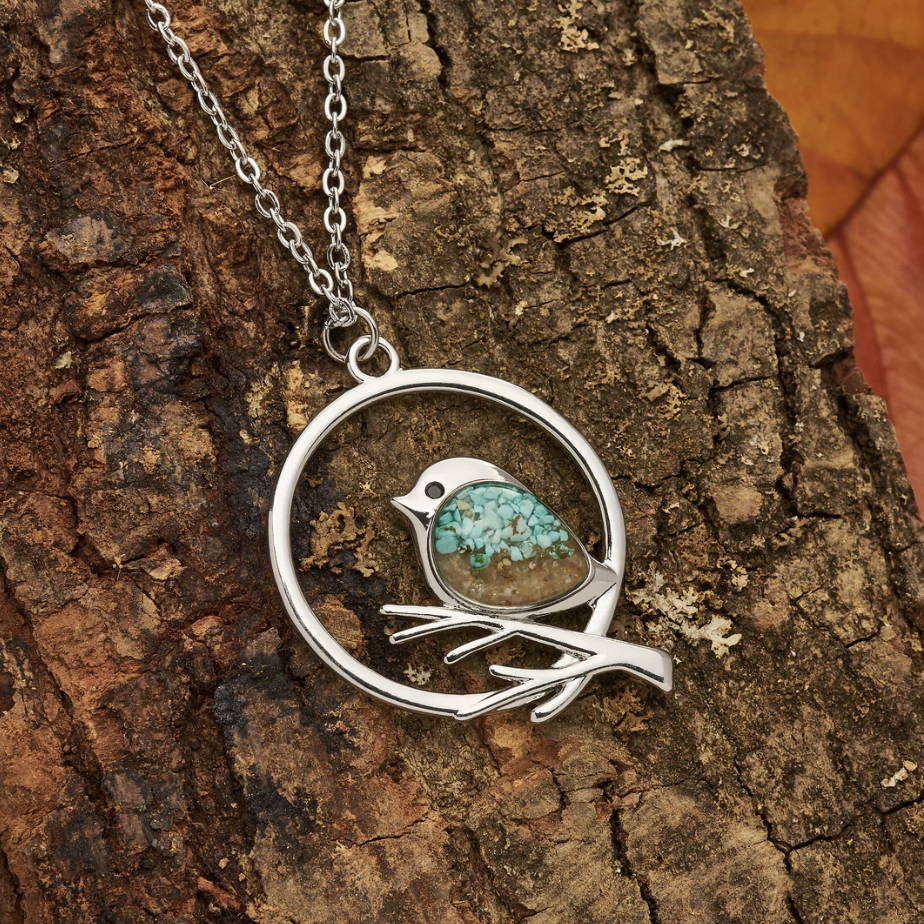 The Sand Birdie & Friends Collection is so special to me because it really represents some of the most beautiful elements of Chadds Ford. The original Sand Birdie Necklace (pictured to the left) was one of my very first jewelry designs, and it has become iconic here at our headquarters. It really is a representation of the natural world -- a slight bird perching delicately on a branch, showing off its undeniable beauty through natural accents of crushed turquoise and sand. After creating a few different variations of the Sand Birdie, I fell in love with using crushed materials to represent important and colorful design elements of these dainty yet powerful creatures. I have since created the Red Glass Cardinal, and I will soon release several additional designs made from crushed malachite and mother of pearl. Here are some of the highlights of the Sand Birdie & Friends Collection:

Each design showcases the natural charm of Southeastern Pennsylvania's most beautiful birds

Either vintage or bright silver finishes offer cheerful, eye-catching bases for these unique designs

Crushed materials offer rustic, natural accents that echo nature

Design elements include turquoise, sand, glass, malachite, and mother of pearl

Sand Birdie & Friends pieces are available in a range of styles

Stainless steel chains are durable and accentuate the beauty of every design
Behind the Scenes: Inspiration for Sand birdie & friends
The idea for the Sand Birdie & Friends Collection came to me not only through the birds and trees of Chadds Ford, but also through precious time spent with my family over the years. Here is a bit more about my inspiration for this collection:
Robins, Wrens, & Sparrows
Robins, wrens, and sparrows are some of the most prevalent birds in Southeastern Pennsylvania, and they are all regular visitors to my garden regardless of the season! In my traditional Sand Birdie design, the beautiful red breast of the robin is echoed by the ochre of the sand as it blends with the turquoise. The outline of the Sand Birdie is meant to resemble a wren puffed up during the winter months, keeping itself warm despite the cold. The Sand Birdie is sitting on a branch, representing the ubiquitous presence of sparrows, who are always ready to sing and dance among my plants and trees. I have enjoyed blending this trio of songbirds into the meaningful and iconic Sand Birdie design.
Cardinals have been important to me for as long as I can remember. While I do also have a separate Cardinal Collection, I thought it was important to include a style of cardinal in the Sand Birdie & Friends Collection that was different from the others. The puffed up cardinal in this collection is meant to emulate the resilience and brilliance of the cardinal in winter -- its bright red feathers are made from crushed glass, and its black mask contains hand-painted black enamel. In traditional folk lore, the presence of cardinals means that loved ones are near, and I wanted this strong, beautiful bird to serve as a special reminder for anyone who needs it.
While raising three boys, I spent a significant amount of time exploring the outdoors, observing all of the winged visitors to our garden. Together, the boys and I learned the different calls and names of our local birds, slowly growing our mental encyclopedias of native bird life in our area. We filled the birdbaths, researched each bird's food preferences, and stocked our feeders, hoping we would have even more visitors to observe and enjoy. My boys have since passed along this love of birding to their children, and it makes my heart swell with happiness to know our special bond with local birds endures. In their honor, I created the Triple Sand Birdie Necklace, which features three Sand Birdies together on a branch.
In creating the Sand Birdie & Friends Collection, I knew I needed to find a way to honor the bountiful groves of trees that decorate the landscape of Chadds Ford. Thanks to our wide array of oaks, pines, locusts, walnuts, maples, and so many more, the birds of Chadds Ford are able to feed, nest, and thrive in our area. The branches featured in this collection are an homage to the many roles trees play in the health and wellness of our beautiful local habitat.
Designing the Sand Birdie & Friends Collection has been both meaningful and personal, and I thank you so much for taking the time to learn more about the inspiration behind it!
Our Favorites from Sand Birdie & Friends