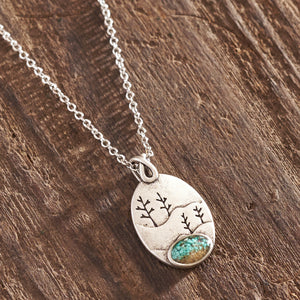 The Turquoise Oval Tree Necklace captures the essence of the outdoors.
Highlighted by crushed turquoise and sand, this keepsake was inspired by the rolling hills and lush woodlands of Chadds Ford, Pennsylvania.
For anyone who appreciates the beauty of nature, this necklace is a must-have.
"Time spent amongst trees is never wasted time." —Katrina Mayer
Details:
Brass Base
Antique Matte Silver Finish
Crushed Turquoise and Sand in Resin
Stainless Steel Chain
18'' with 3'' Extender
Pendant Size 28mm x 16mm
Our Collections:
We invite you to indulge in the exquisite allure of our handcrafted country- and nature-themed jewelry collections. From keepsake earrings and necklaces to bracelets and rings, each piece emanates a timeless beauty and undeniable charm. Whether you find solace in the serenity of nature or simply appreciate the rustic elegance that it embodies, our jewelry is sure to leave a lasting impression. Embark on a captivating journey with us and discover treasures which effortlessly reflect the enchanting splendor of the natural world.