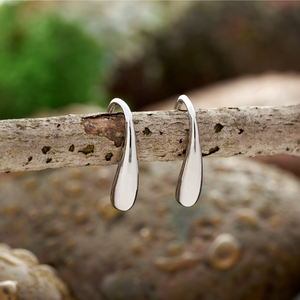 The Sterling Silver Waterdrop Earrings have quickly become a must-have accessory.
Whether you're dressing up for a special occasion or just adding some nature-themed flair to your everyday look, these lovely earrings makes a great choice.
"In all things of nature, there is something of the marvelous." —Aristotle
Details:
Material: 100% High-Quality Sterling Silver
Design: Minimalist 3D Waterdrops
Earring Height: 14.5mm or 0.57'' in Height
Earring Width: 3.5mm or 0.14'' in Width
Nickel-free & Hypoallergenic
Our Collections:
We invite you to indulge in the exquisite allure of our handcrafted country- and nature-themed jewelry collections. From keepsake earrings and necklaces to bracelets and rings, each piece emanates a timeless beauty and undeniable charm. Whether you find solace in the serenity of nature or simply appreciate the rustic elegance that it embodies, our jewelry is sure to leave a lasting impression. Embark on a captivating journey with us and discover treasures which effortlessly reflect the enchanting splendor of the natural world.