When you place an order here at Chadds Ford Jewelry, we want you to be as delighted with your package as you are with your nature-inspired keepsakes. Our team has worked hard to create an extraordinary packout and unboxing experience that not only protects your order but also presents it in a way that brings you a sense of joy and overwhelming satisfaction. Leveraging a combination of both practicality and aesthetics, our beautiful packages capture the natural essence of our brand, and they also make gorgeous gifts for friends, family, and loved ones! Our packout and unboxing experience transforms the act of opening a little white box into a moment of highly-anticipated excitement and joy for anyone who receives a Chadds Ford package. Learn more about our packaging in this article!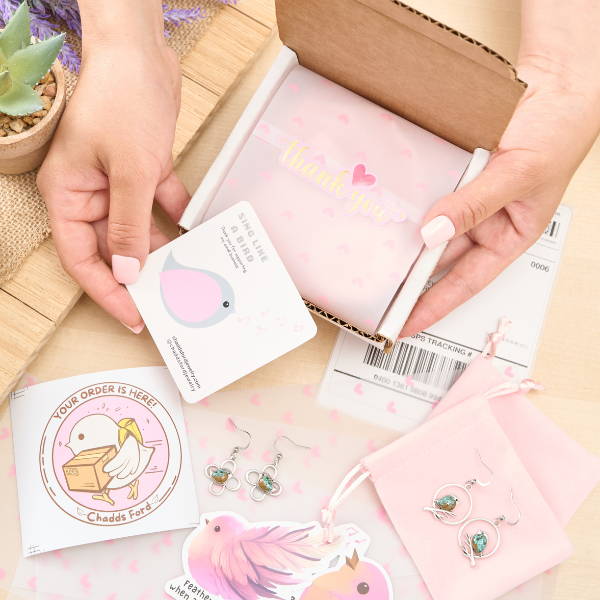 Our packout and unboxing philosophy extends beyond simply delivering a product; it is a reflection of our deep desire to make every Chadds Ford Jewelry customer feel appreciated, loved, and proud of their jewelry purchase. Your support of our small business means the world to us, and we want you to feel a sense of excitement and anticipation as your package arrives. As you open your box, you'll discover a carefully arranged presentation that compliments the exquisite beauty of the pieces in your order. All elements of our packout, from the luxurious pink paper to the thoughtfully included surprises, are designed to show our profound gratitude for your support and our commitment to making your experience with Chadds Ford Jewelry exceptional. After all, your jewelry purchase is not just a transaction; it is a heartfelt gesture that should be celebrated and treasured. Whether you have received our package as a gift or have ordered some of our designs for your own personal collection, we hope you love your unboxing experience just as much as you love your keepsakes!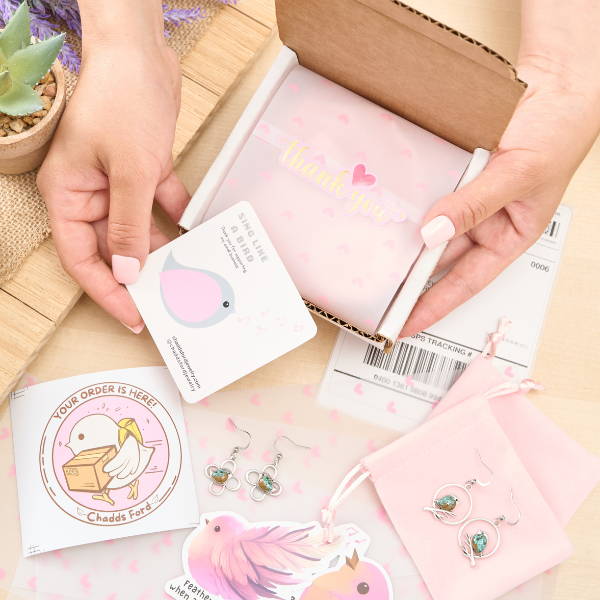 Packout & Unboxing
What's Included
Our shipping and handling team places a paramount emphasis on care, accuracy, and efficiency. Leveraging a seamless blend of technology and expertise, our talented staff works hard to ensure that your order is collected from our shelves quickly and correctly. We have extremely high standards for organization, picking, and packing, so it is highly unlikely that any errors in product selection can occur.
Before packaging your pieces, our team members inspect all jewelry to ensure each keepsake meets our standards for excellence. With a keen eye for detail, our product specialists meticulously examine each element, from the craftsmanship to the materials, ensuring that only the finest pieces make their way into our collection and, ultimately, into your hands. If you ever do run into an issue with your jewelry, please don't hesitate to let us know!
We know how important it is for your order to arrive safely. Accordingly, every item is first placed into its own clear bag and then into protective anti-tarnish bags, which are also perfect for keeping jewelry safe during storage and travel. Next, we wrap all items in tissue paper, which prevents your pieces from sliding around (and it looks beautiful, too)! Your order is then carefully surrounded with robust paper and packed into our durable yet elegant signature white box.
We believe that our unboxing experience should represent the care and creativity we pour into every aspect of our brand. For example, our light pink anti-tarnish bags are not only practical but also a visual delight. We use rose-colored tissue paper and premium wrapping paper to make every order feel like a gift, even if you placed the order for yourself! Finally, we seal your package with beautiful stickers, creating a cohesive, aesthetically-pleasing presentation. Every order we send out transforms into the perfect gift, ready to be adored by its recipient.
We deeply appreciate your decision to choose our brand, and we want to express our gratitude for every order our customers place with us. As a token of our appreciation, we include a selection of our original stickers and a heartfelt "thank you" card with every purchase. We understand that every interaction we have with our customers is an opportunity to give thanks, and we hope that our unboxing experience brings you the joy you deserve! There are a lot of jewelry brands out there, and you trusted us with your purchase. To our team, that means the world.
We understand the excitement of receiving your order promptly, which is why we make fast shipping a top priority. All of our orders ship within one business day from Kennett Square, Pennsylvania, and we have partnered with the USPS to ensure reliable and efficient delivery. Once your order has shipped, you will receive a tracking number via email, allowing you to watch the progress of your order. Once your package arrives, we hope that our unboxing experience is everything you could have wished for and more!
Give the Gift of
Chadds Ford Jewelry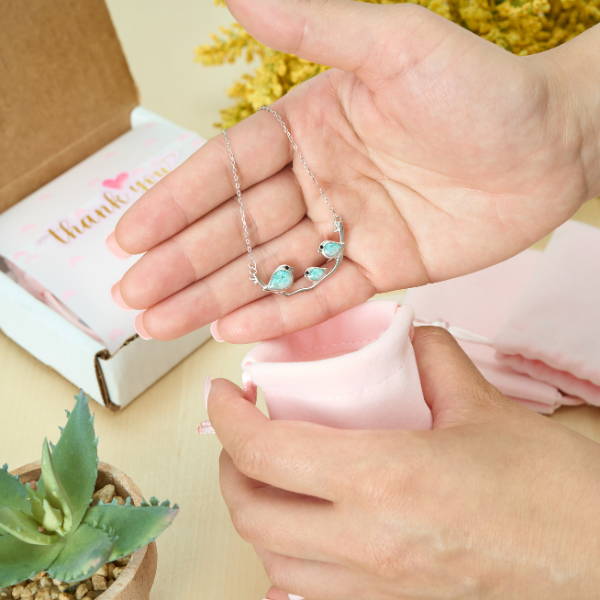 Our timeless jewelry, combined with our elegant packout presentation, makes our packages the perfect gifts for friends and family. Every recipient's unboxing experience becomes a memorable moment that beautifully complements our nature-inspired designs. Instead of going through the hassle of wrapping presents yourself, entrust our experienced staff with this task! When placing your order, simply provide your friend's shipping details instead of your own, and we will take care of the rest. Our expert team will ensure that your special gift, lovingly wrapped and packaged, is promptly delivered to your chosen recipient, creating a delightful surprise that will be cherished and treasured. With our appreciation for aesthetics and our meticulous attention to detail, you can confidently send a heartfelt gesture straight to the door of your loved ones, knowing that the presentation alone will evoke a sense of joy and appreciation.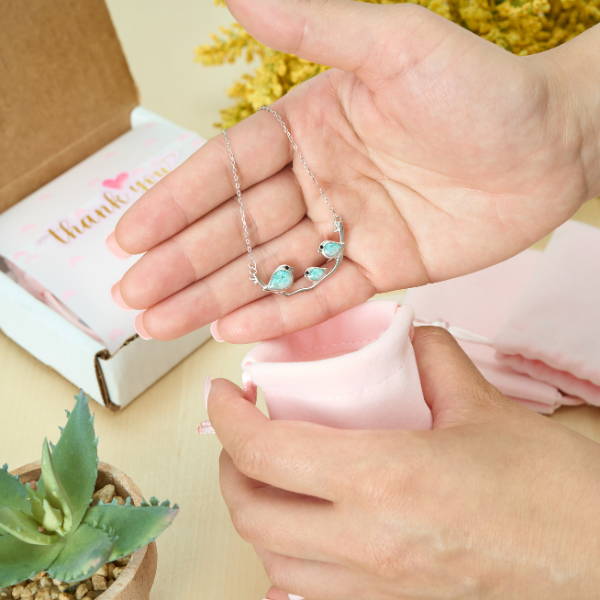 Boxing & Unboxing: The Process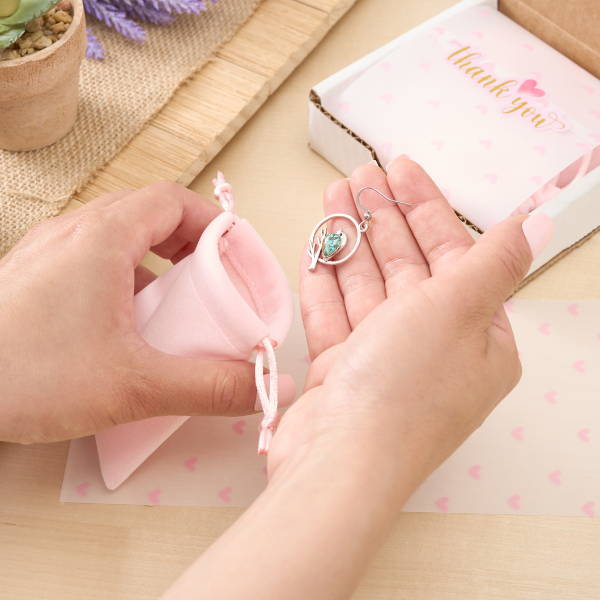 At Chadds Ford Jewelry, we pride ourselves on our robust fulfillment process that ensures a seamless and exceptional experience for our customers. From the moment an order is placed, we carefully handle every step to guarantee satisfaction and delight. Our dedicated team of fulfillment experts is highly trained to use both automation and repeatable processes to ensure all orders are accurately selected. Next, each piece is inspected by our quality control team to ensure that all of our keepsakes meet our rigorous standards of quality. We have come a long way from fulfilling orders at the kitchen table to operating out of a full-scale warehouse, and we are really proud what we have accomplished! Now, we are excited to say that our commitment to top-tier fulfillment reflects the goal we have always had: to deliver unparalleled service and exquisite jewelry to our very special customers.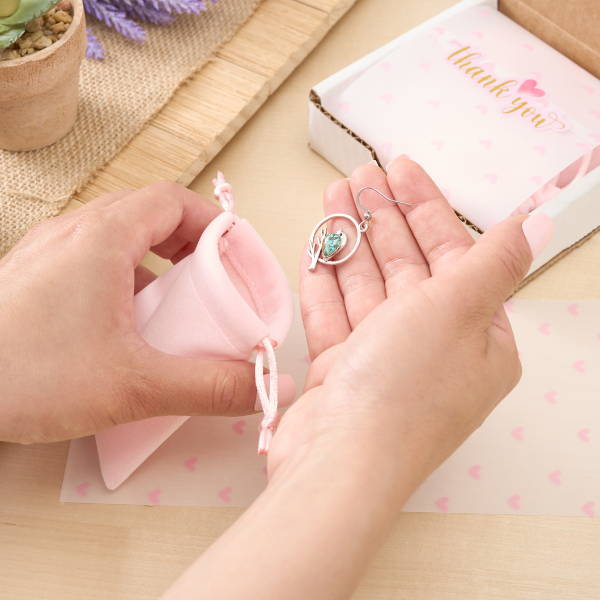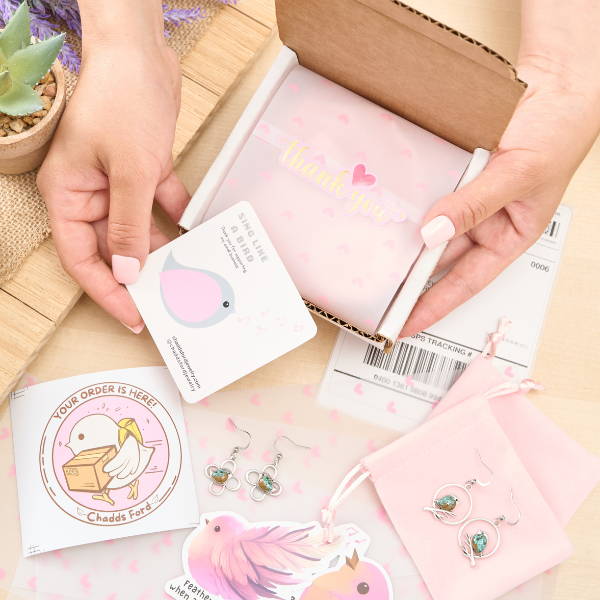 Perfecting the Presentation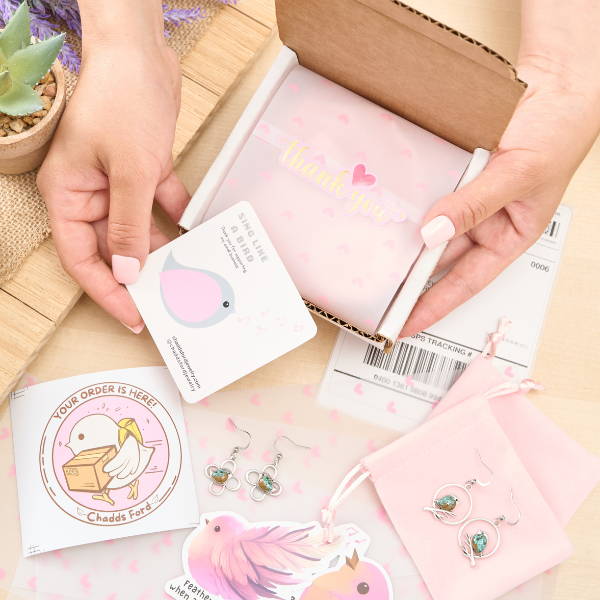 Our packout presentation is designed to evoke the beauty of soft pink petals and bright birds singing in the trees. All of our packaging materials are color-coordinated, creating a cohesive, visually-appealing aesthetic designed to delight anyone who receives one of our orders. Our protective wrapping paper and "thank you" stickers feature a dainty heart motif, while our premium pink tissue paper ties the look together. Further, our attractive anti-tarnish bags protect jewelry from both damage and oxidation, keeping your pieces looking radiant for years to come. As a token of our appreciation, we also include a heartfelt "thank you" card with every order, expressing our gratitude for your choice to invest in our original nature-inspired designs. These special touches are our way of ensuring that every package not only contains exquisite jewelry but also conveys our dedication to providing a memorable and delightful unboxing experience for our valued customers.
Packing & Shipping With Care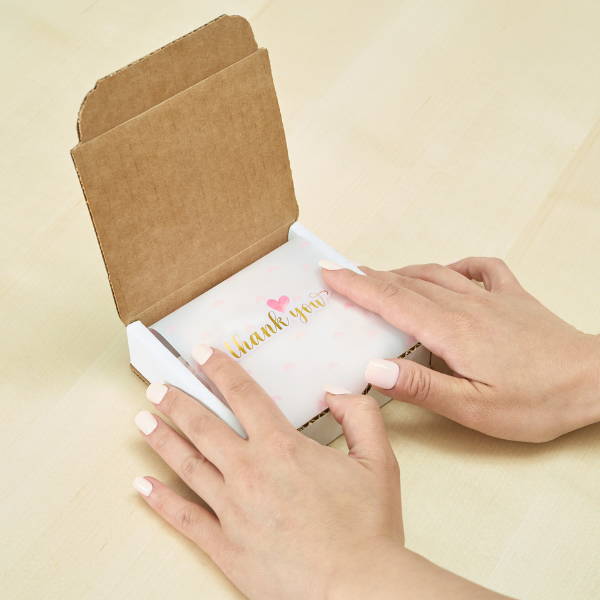 While we have poured our heart and soul into creating the perfect unboxing experience for our customers, we have also redoubled our commitment to packing and shipping resources that get orders quickly and safely into the hands of our eager recipients. Our packaging is not only aesthetically pleasing but also functional, and our fulfillment team works hard to ensure that every package meets our high standards of both durability and design. Here's a bit more about our packaging process:
To keep pieces safe in transit, every adornment receives its own clear bag, which is then inserted into an anti-tarnish bag.

Each bag is wrapped with our premium pink tissue paper, adding a touch of elegance and sophistication.

The tissue paper is closed with stunning golden "thank you" stickers that reflect our dedication to aesthetics.

To add an additional layer of protection, we line each box with a sheet of sturdy white paper that features a heart pattern.

Every order is packaged within our signature white box, which provides a clean, crisp, durable exterior.

Each box is securely taped to ensure safe delivery and adorned with one of our unique stickers and a mailing label.
Once your keepsakes are fully packaged, we ship them as soon as possible! All of our orders dispatch all within one business day from our warehouse in Pennsylvania via the USPS. You will also receive a tracking number when your items leave our facility, so you can follow your order's progress! We can't wait for our package to reach your doorstep, so you can enjoy everything our unboxing experience has to offer.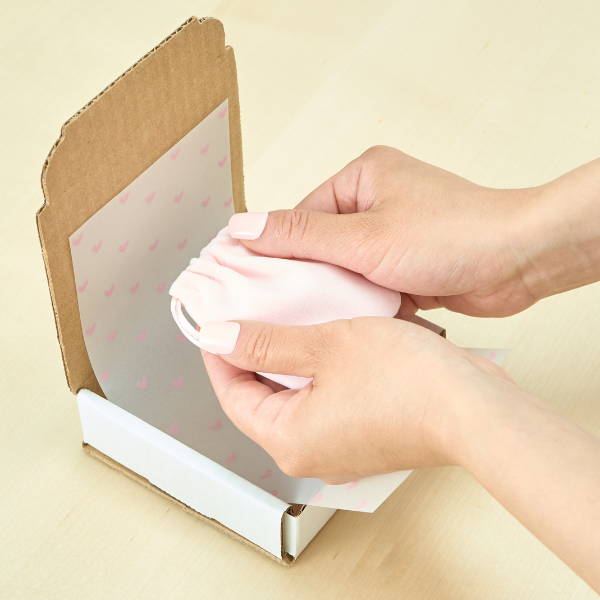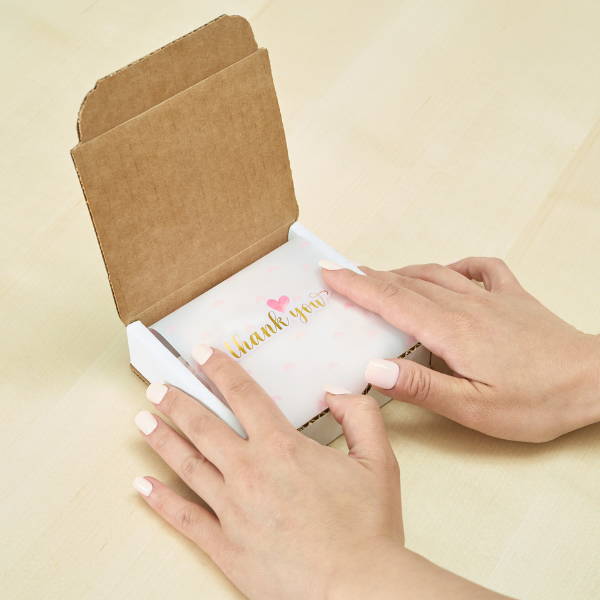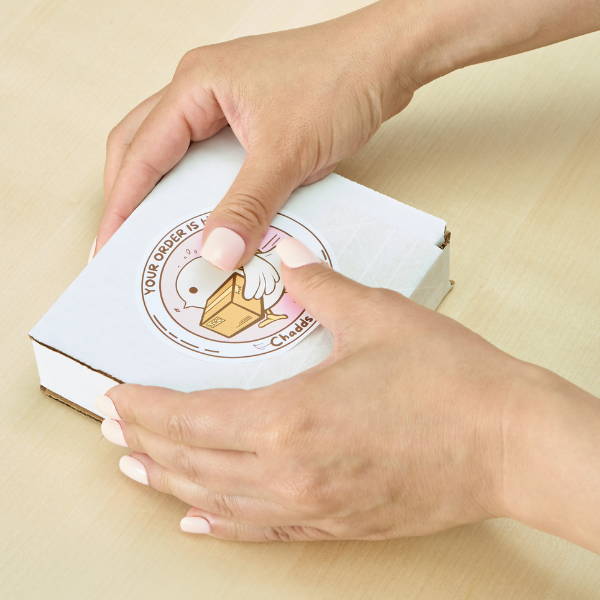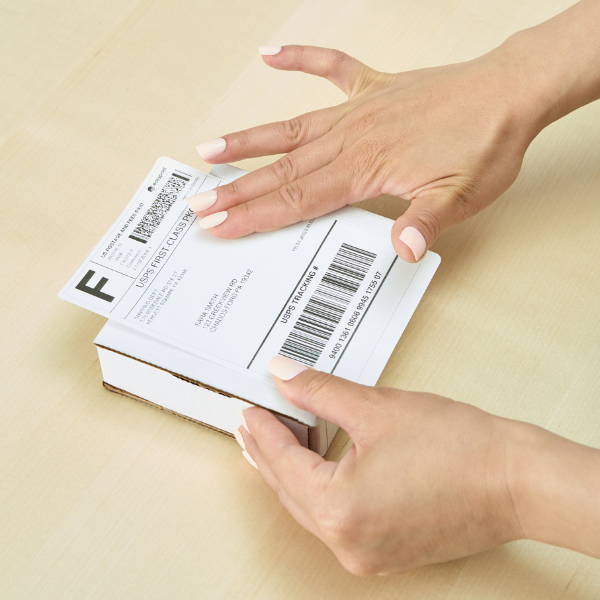 One for You, One for Me, Too!
At Chadds Ford Jewelry, we are eager to create a stunning unboxing experience for all of our customers. Our carefully curated collection, inspired by the rustic beauty of Pennsylvania's Brandywine Valley, offers timeless pieces that evoke both elegance and sentiment, and they are guaranteed to arrive in style at your doorstep. Whether you are shopping yourself or looking for the perfect gift for someone special, we are certain that you will find something you love in our shop.