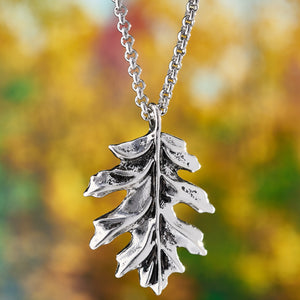 Stunning and refined, the Vintage Oak Leaf Necklace elegantly captures the spirit of the great outdoors.
Showcasing an antique silver finish, this necklace is the perfect keepsake for your favorite nature-enthusiast.
"Time spent amongst trees is never wasted time." —Katrina Mayer
Eco-Friendly Alloy with Antique Silver Finish
Leaf Pendant: 30mm (Height)
Chain: Stainless Steel O-Shape Chain (20" + 2" Extender)
Our Collections:
We invite you to indulge in the exquisite allure of our handcrafted country- and nature-themed jewelry collections. From keepsake earrings and necklaces to bracelets and rings, each piece emanates a timeless beauty and undeniable charm. Whether you find solace in the serenity of nature or simply appreciate the rustic elegance that it embodies, our jewelry is sure to leave a lasting impression. Embark on a captivating journey with us and discover treasures which effortlessly reflect the enchanting splendor of the natural world.