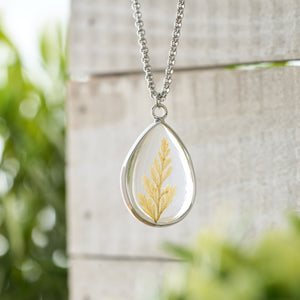 The Fading Fern Teardrop Necklace is quickly becoming a must-have accessory.
Showcasing real fern in resin, this enchanting necklace pairs well with both casual and formal attire.
"The beauty of the natural world lies in the details." —Natalie Angier
Details:
Real Fern in Resin 
Stainless Steel Rollo Chain 18'' Length with 3'' Extension
Pendant Size: 19mm x 30mm
Our Collections:
We invite you to indulge in the exquisite allure of our handcrafted country- and nature-themed jewelry collections. From keepsake earrings and necklaces to bracelets and rings, each piece emanates a timeless beauty and undeniable charm. Whether you find solace in the serenity of nature or simply appreciate the rustic elegance that it embodies, our jewelry is sure to leave a lasting impression. Embark on a captivating journey with us and discover treasures which effortlessly reflect the enchanting splendor of the natural world.