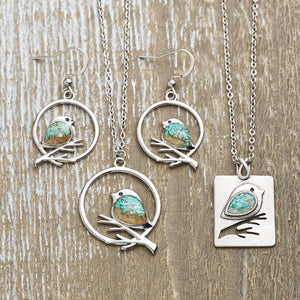 The Classic Sand Birdie Branch Bundle brings together the three adorable accessories that started it all.
Highlighted by the use of turquoise and sand, these designs were inspired by the beautiful birds of Chadds Ford, Pennsylvania.
All of these pieces pair well with both professional and casual attire, making them versatile choices for any outfit.
"Watch with glittering eyes the whole world around you because the greatest secrets are always hidden in the most unlikely places. Those who don't believe in magic will never find it." —Roald Dahl
Sand Birdie Branch Earrings
Sand Birdie Branch Necklace
Sand Birdie Branch Rectangular Necklace