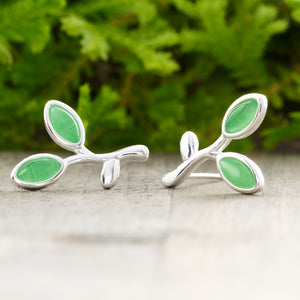 Stunning and refined, the Cat's Eye Leaf Studs are quickly becoming a must-have accessory.

These beautiful stud earrings pair well with both casual and formal attire.
"The best time to plant a tree is twenty years ago. The second best time is now." —Chinese Proverb
Details:
Brass with White Gold Finish
Synthetic Green Cat's Eye Stone Hand Inlaid
Solid Sterling Silver Ear Posts, Hypoallergenic & Nickel-Free
Size: 18.6mm x 12.0mm
Our Collections:
We invite you to indulge in the exquisite allure of our handcrafted country- and nature-themed jewelry collections. From keepsake earrings and necklaces to bracelets and rings, each piece emanates a timeless beauty and undeniable charm. Whether you find solace in the serenity of nature or simply appreciate the rustic elegance that it embodies, our jewelry is sure to leave a lasting impression. Embark on a captivating journey with us and discover treasures which effortlessly reflect the enchanting splendor of the natural world.