The Beauty of Daisies
Daisies, with their simple yet enchanting beauty, hold a special place in my heart. I love how these sweet flowers pop up in my garden, in my backyard meadow, and even sometimes in my front lawn, bringing me delightful moments of unexpected joy. My admiration for these delicate yet hardy flowers has led me to create a collection that celebrates their timeless elegance, simple beauty, and remarkable persistence. My newest botanical keepsakes aim to bring the beauty of daisies to life, allowing wearers to carry a touch of nature's enchantment wherever they go. I wanted to share a bit more about these pieces and my love of daisies with you in this guide!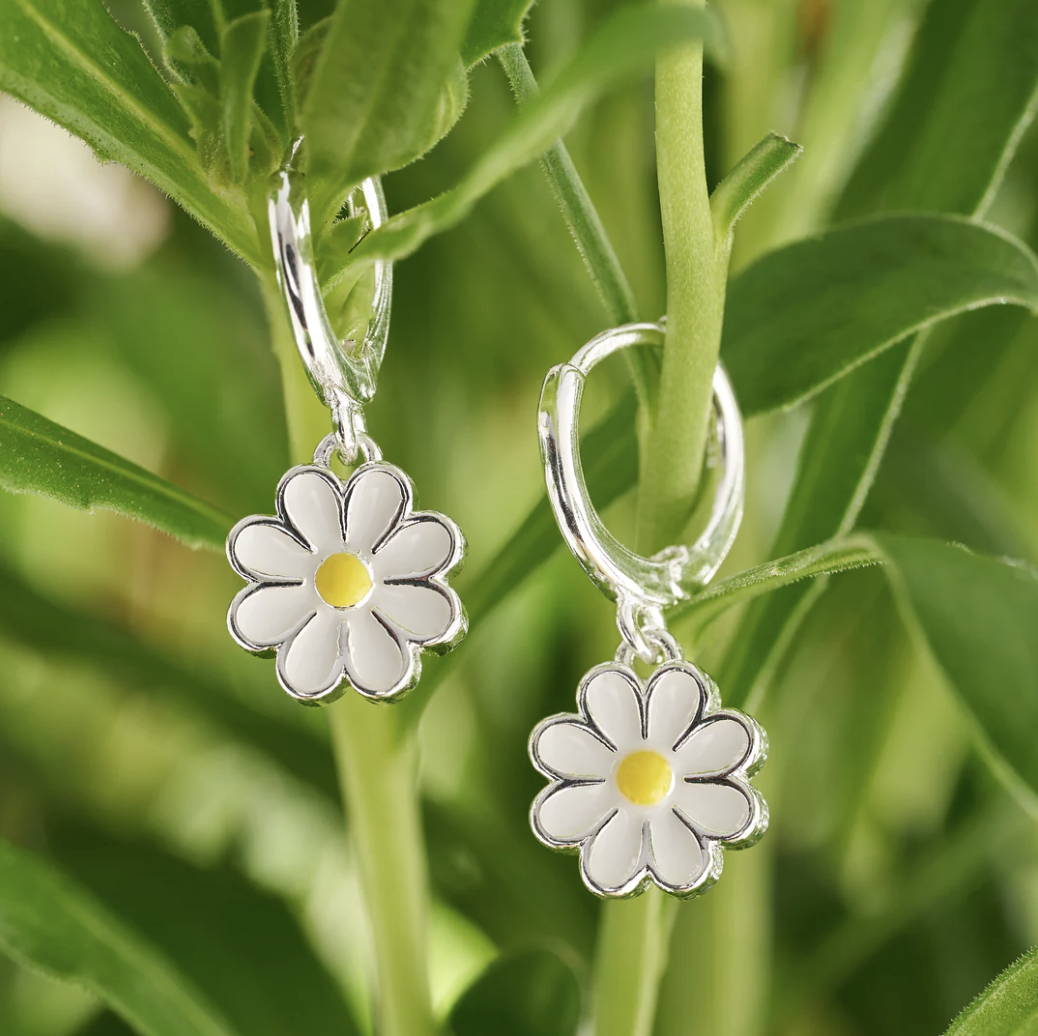 When I think back on my fondest memories from childhood, many of them involve spending summer evenings outside with my family and friends. The other children and I would pluck daisies growing freely in the grass and make bracelets, necklaces, and crowns that made us feel like fairy princesses! The daisy's beautiful white petals, cheerful yellow center, and long green stem made it the perfect accessory for whimsical play. When I created the daisy-inspired keepsakes featured in this collection, I knew they would be perfect for both children and adults. Each piece is designed to evoke the happy memories that daisies have created for so many of us, and all of my daisy keepsakes are made out of sturdy, bright materials to enhance each design. Here are a few more details about this adorable new collection:
Each piece offers a delicate and cheerful daisy design, perfect for wearers of all ages.

Eco-friendly alloys and silver and gold finishes feature prominently in this collection.

Striking white and yellow enamel accents capture the simple beauty of the daisy.

Our sterling silver daisy designs are bright, durable, and perfect for any occasion.

Both the ring and bracelet designs are adjustable for the comfort of the wearer.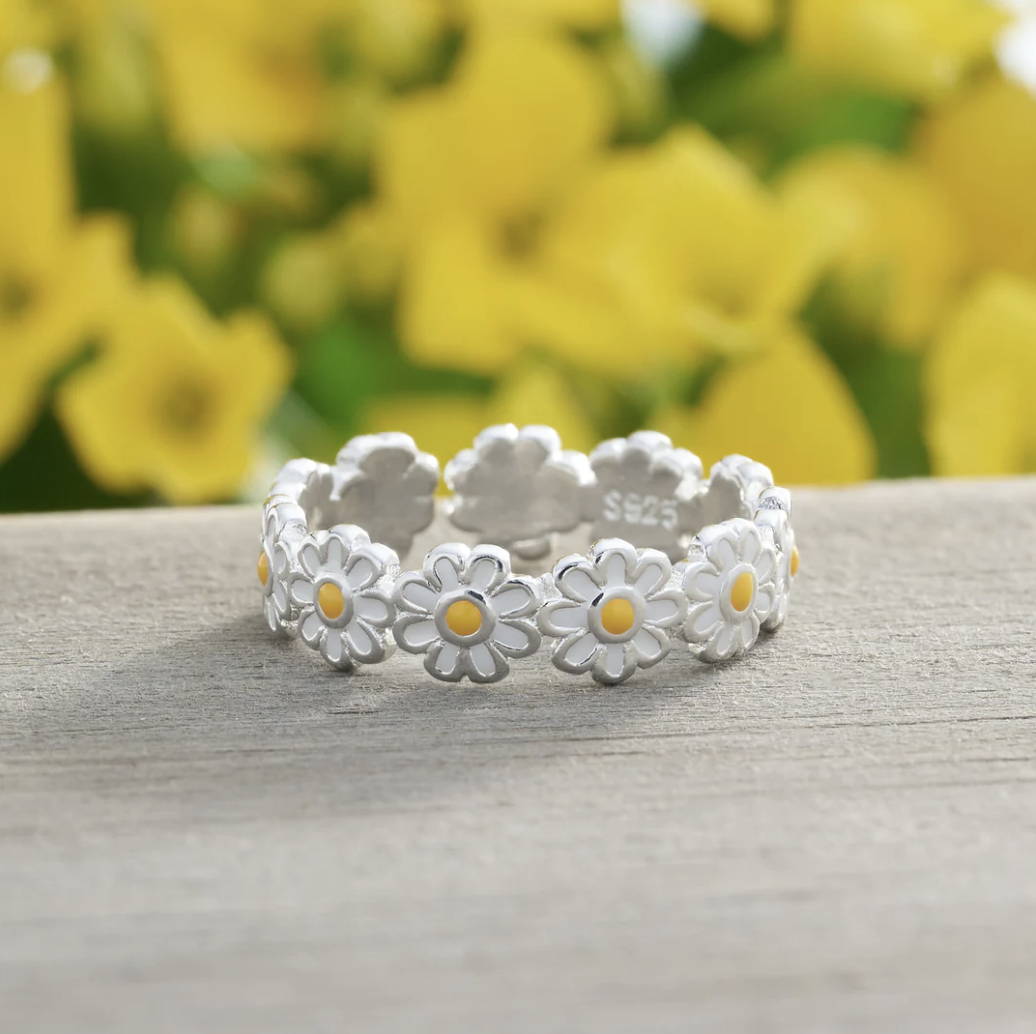 The daisy, belonging to the Asteraceae family, is a charming flower that boasts distinctive botanical elements. Its scientific name, Bellis perennis, translates to "eternal beauty," reflecting its perennial nature. The daisy typically features a central yellow disk surrounded by numerous white or yellow petals, creating the appearance of a single flower. However, what appears as individual petals are actually ray flowers, designed to attract pollinators. The leaves of the daisy are typically dark green, spoon-shaped, and grow in a rosette pattern. The plant itself is relatively small, growing close to the ground and producing flowers on slender stems. These botanical elements, combined with its hardy nature and ability to thrive in various environments, contribute to the timeless allure of the daisy.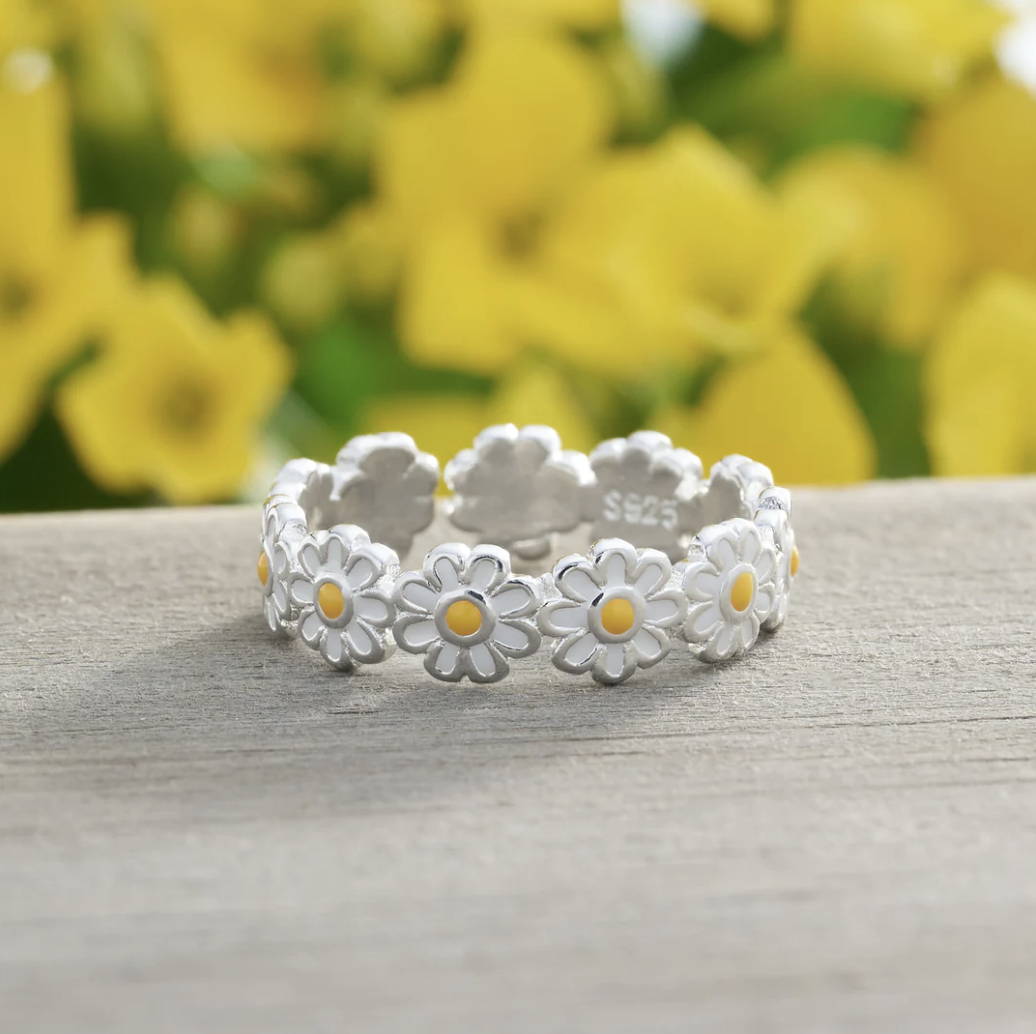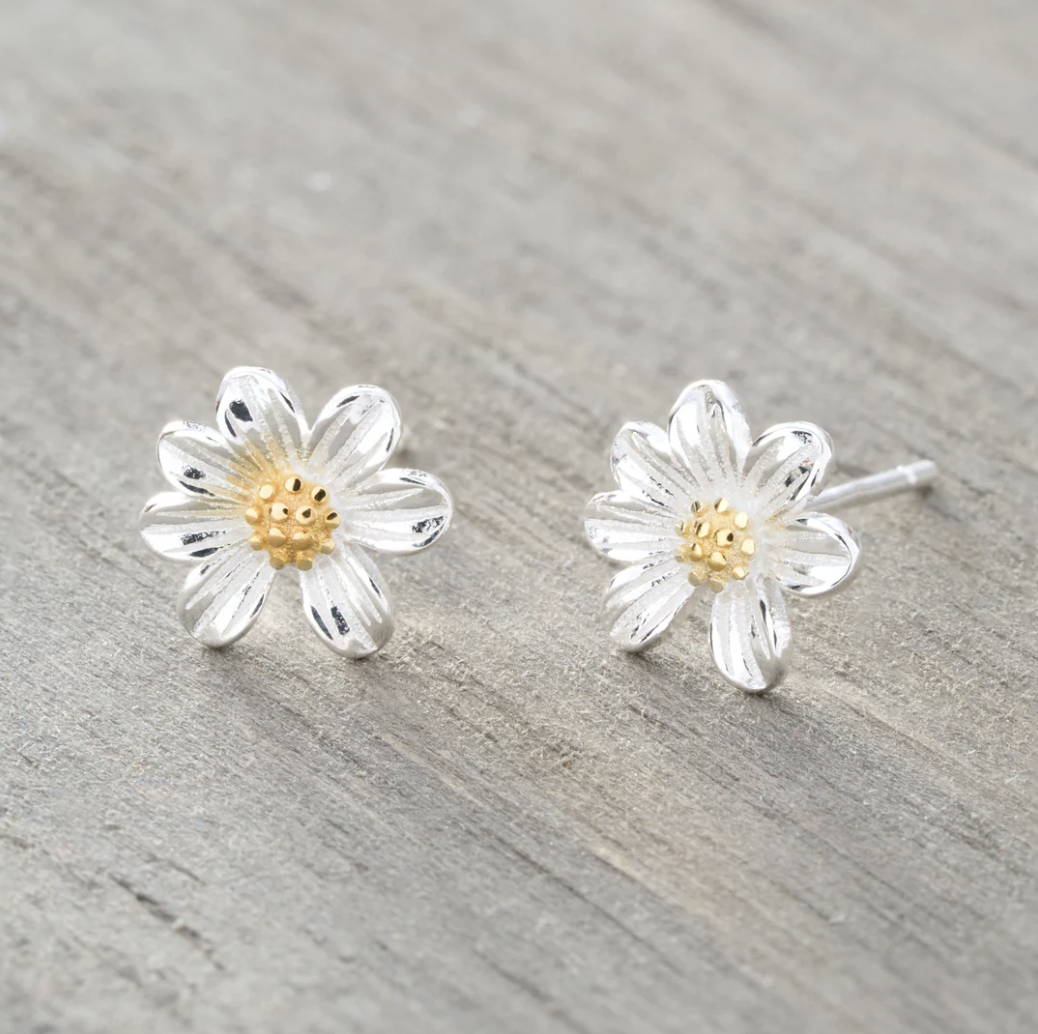 The resilience of the daisy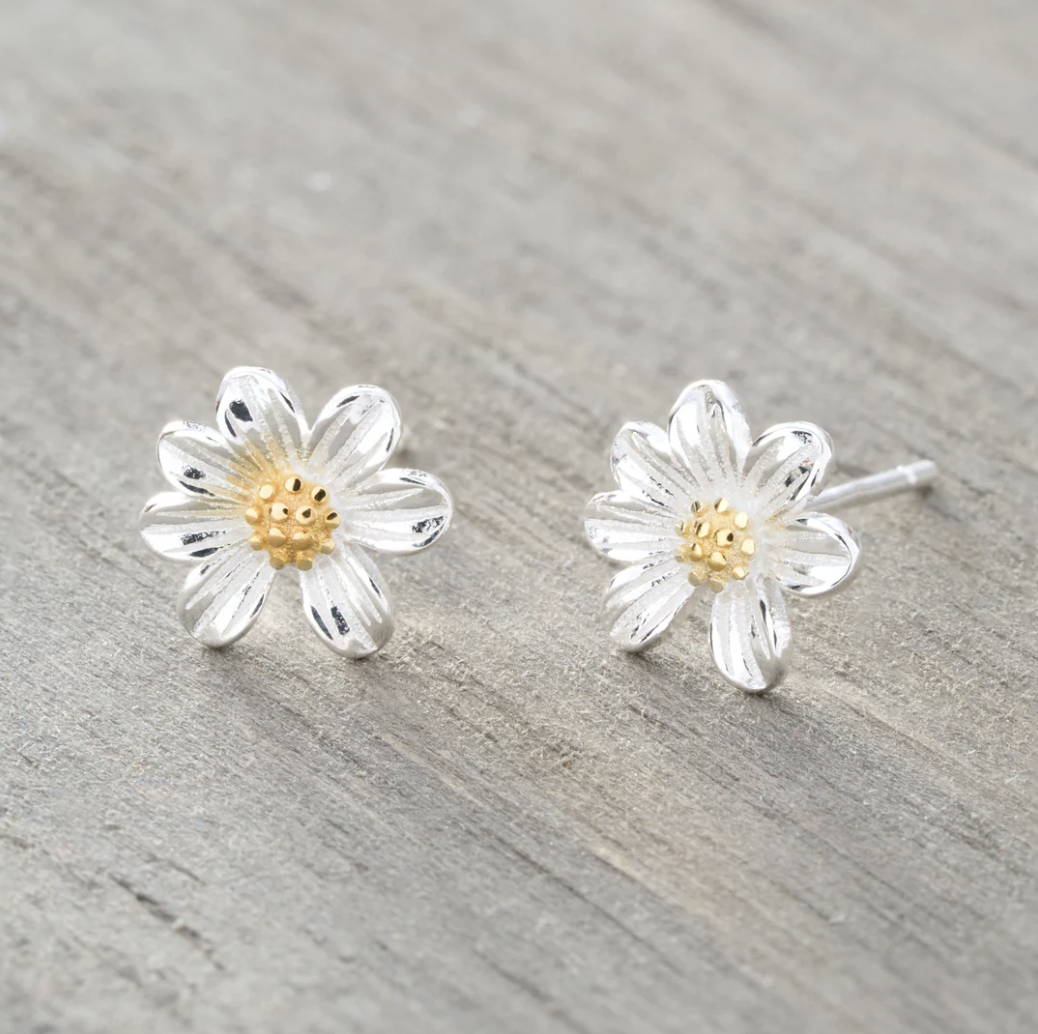 Daisies have a fondness for open, sunny areas and can be found growing in a variety of habitats. They thrive in fields, meadows, lawns, and even along roadsides. Their resilient nature allows them to adapt to different soil conditions, although they prefer well-drained soil. Due to their willingness to grow almost anywhere, I regularly find these enchanting flowers scattered all over my property! Their cheerful blooms, with their bright white petals and sunny yellow centers, bring a sense of joy and natural beauty to every corner. I also love seeing these flowers when I'm out on my daily walks, and their presence adds a touch of playfulness, transforming ordinary spaces into a whimsical haven. The sight of daisies dancing in the breeze evokes a sense of serenity and a connection to the simple pleasures of the outdoors, reminding me that nature's magic is truly all around.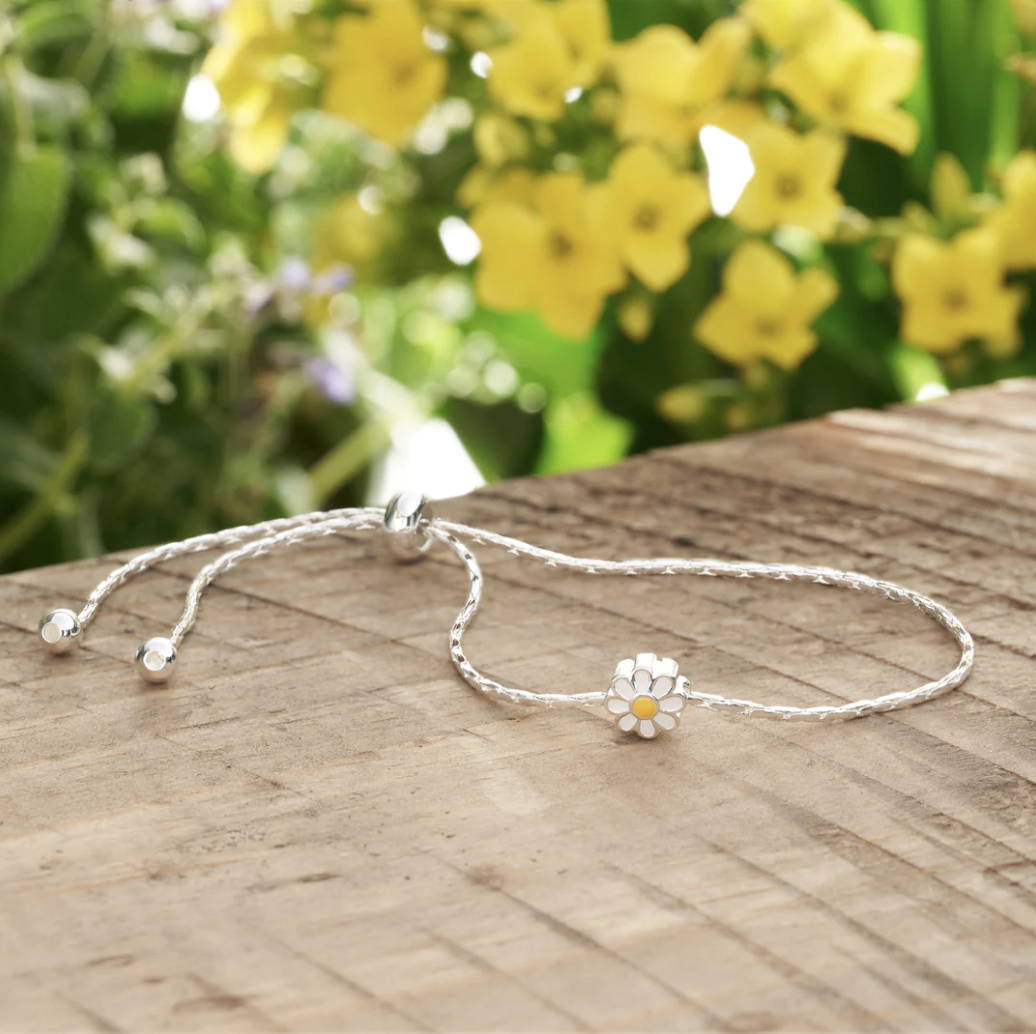 The daisy is a beloved flower with a rich history, and it has enchanted people for centuries. This dainty delight has been a symbol of love, purity, and innocence in various cultures throughout time. In ancient times, the daisy was associated with the goddess Aphrodite and was considered a flower of love and fertility. During the Middle Ages, it became a symbol of the Virgin Mary and was often depicted in religious artwork. The daisy's popularity reached its peak during the Victorian era, where it became a cherished symbol of true love and loyalty. Today, the daisy continues to captivate hearts with its timeless beauty, reminding us of the enduring connection between humanity and nature throughout the ages. To this day, I love gathering daisies and featuring them in my household decor, as they bring a sense of love, light, and happiness to any room.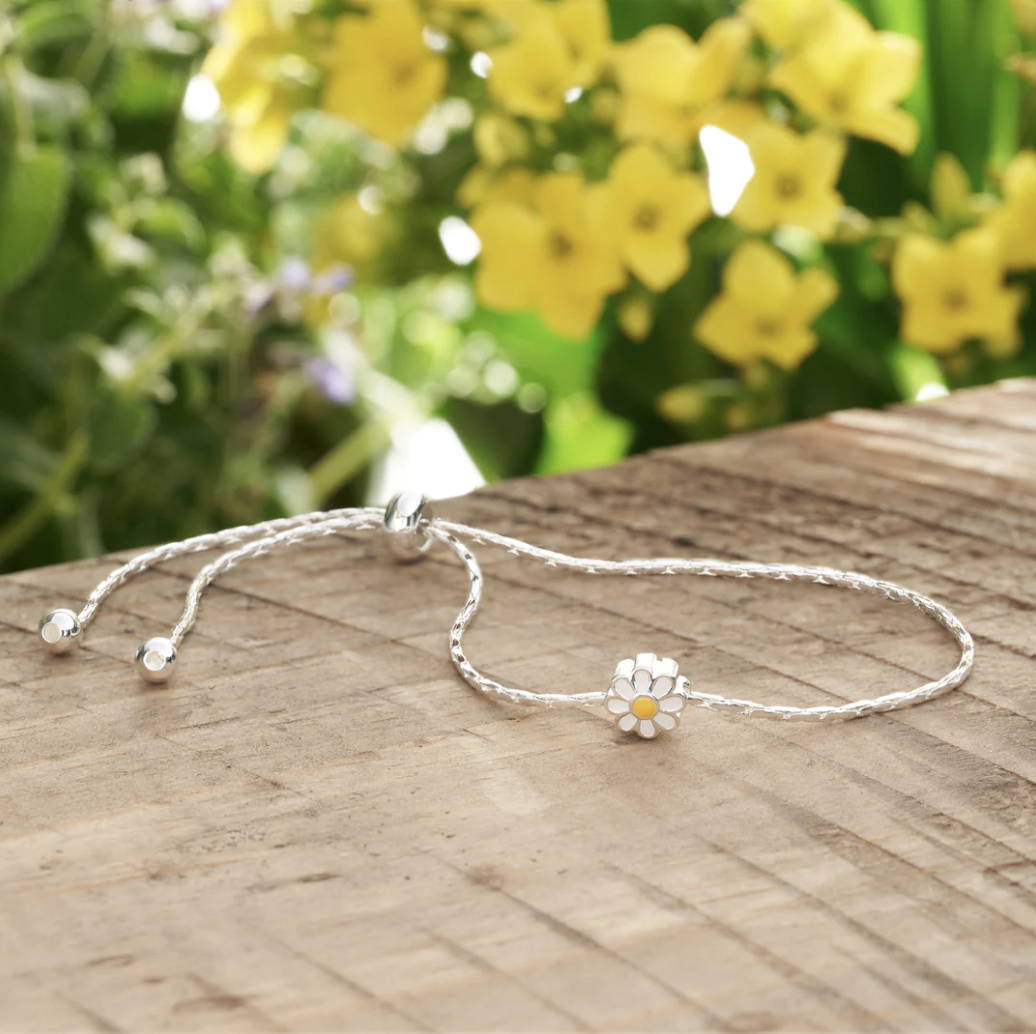 7 Delightful Daisy-Inspired Activities
If you are looking for some enjoyable crafts, or if you would like to find fun ways to connect with the youngest members of your family, then consider doing some daisy-inspired activities! Here are some of my favorite daisy-related things to do either with my grandchildren or on my own:
Create daisy chains: Gather daisies with long stems and weave them together to create beautiful daisy chains or flower crowns. This is a fun and creative activity, perfect for a sunny day outdoors with young people.

Decorate with daisies: Use fresh daisies to adorn your living space or special events. Arrange them in vases, create table centerpieces, or scatter them around for a charming and natural touch.

Press daisies: Collect fresh daisies and press them between heavy books or using a flower press. Once dried, they can be used for various crafts like making greeting cards, bookmarks, or framed art. My grandchildren love this activity.

Make daisy petal art: Use the petals of daisies to create colorful and vibrant artwork. Arrange the petals to form patterns, shapes, or even intricate designs. This activity encourages creativity and helps in appreciating the natural beauty of daisies.

Explore daisy photography: Grab your camera and head outdoors to capture the beauty of daisies up close. Experiment with different angles, lighting, and compositions to create stunning photographs of these charming flowers.

Make daisy-inspired crafts: Use daisies as inspiration to create various crafts like handmade cards, jewelry, or decorative items. Get creative with materials such as paper, beads, or clay to capture the essence of daisies in your creations.

Dried daisy crafts: Use dried daisies to create potpourri, scented sachets, or decorative ornaments. Their delicate appearance and gentle fragrance can add a touch of nature to your home.
Daises are such lovely flowers, and they have made a delightful, delicate muse for my most recent jewelry designs. Their cheerful appearance and their remarkable resilience serve as reminders of the simple pleasures found in nature. Whether you are looking for the perfect gift for a loved one or are simply searching for a joyful addition to your own jewelry collection, be sure to browse my daisy-inspired designs today!