The Brandywine Polo Club: A Hidden Attraction
The Brandywine Polo Club:
A Hidden Attraction
Although we're still in the heart of winter, I can't help but dream about the summer months here in the Brandywine valley. In my mind, I am already visiting my favorite gardens and nature preserves under beautiful, sunny summer skies. One of my favorite warm weather activities here in Pennsylvania is visiting the Brandywine Polo Club for an evening of entertainment, delicious food and drink, and fun with friends and family. This article explores the basics of polo, the Brandywine Polo Club (BPC) as a favorite local attraction, and how to watch (and even learn to play) polo.
Polo is one of the oldest sports in the world, dating back all the way to sixth century BC, when it arose as a training game for the Persian military. Here are some interesting facts about this unique sport:
It was popularized as "the sport of kings."

It is played by opponents on horseback in teams of three (in an arena) or four (on grass).

A player's main objective is to use their long mallet to hit a small ball down the field and through their opponent's goal posts.

Polo can be very physical, but the lengthy list of rules is designed to keep the horses and riders as safe as possible.

The game is divided into seven and a half minute periods called chukkers, and there are typically four to six chukkers in every match.

Even though most of the riders' trusty steeds are horses, they are widely known as "polo ponies."

Some riders may bring an entire string of polo ponies along to their matches to ensure their mount for each chukker is rested and ready to play.
About Brandywine Polo Club
Brandywine Polo Club is one of the longest standing polo clubs on the East Coast, founded in 1950 by former Yale polo player James McHugh. It is nestled in Brandywine Valley in the heart of bucolic Chester County, surrounded by luscious green fields and beautiful wooded areas. Here are some interesting facts about this unique club:
Its sprawling facilities and fields cover 122 acres.

It boasts 100 stalls, 4 grass playing fields, 1 stadium arena, a hitting cage, and an exercise track.

It is the largest United States Polo Association (USPA) club on the Eastern Circuit.

Polo season lasts 4 months in the summer.

The club holds 9 competitive tournaments each season.
Public matches are held on Fridays at 5:00PM and on Sundays at 3:00PM. Everyone is invited to watch!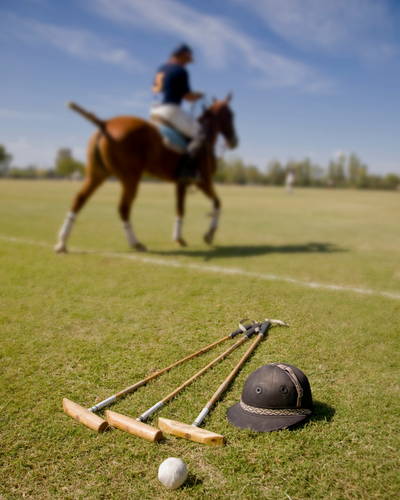 If you are looking for something fun to do on a gorgeous summer evening, pack your car with a few friends, a picnic basket, a blanket, and your dog, and head to a polo match. The BPC is definitely a must-see for any out-of-town visitors, as well. Here's what you need to know about watching polo at BPC:
Bring lawn chairs or a blanket, as you'll be seated on the sidelines in the grass.

Don a cute sundress and a decorative hat if you're feeling fancy, or wear some gingham shorts and an Oxford shirt if you're feeling more casual.

Even though the matches are later in the day, it's usually still quite sunny – bring your sunglasses, hats, and sunscreen!

Plan a tailgate, and consider a fun theme – many people love to bring a cooler of beverages, light snacks like a charcuterie board or fruit and cheese, and/or even a full meal if they are watching an evening match.

Take part in the divot stomping tradition! Usually around half-time, spectators are invited onto the field to replace and stomp on divots that the ponies have created during play.
If you are feeling adventurous, you can even learn to play polo at the Brandywine Polo Club. In addition to playing memberships offered for experienced players, those brand new to polo can take part in private lessons, group lessons, team building, coaching chukkers, and polo training. While it's not an inexpensive sport to learn, it is certainly good fun to explore! I've had several friends who have taken part in Brandywine Polo Club's Polo School over the years – they all reported learning a great deal about the sport, making friends, and having a rollicking good time at their end-of-season tournament.
If you are looking for things to do in the Brandywine Valley this summer, come down to Brandywine Polo Club for the unique and unforgettable experience of watching a polo match. If you live further afield, check to see if you have a local polo club near you! Have you ever ridden horses or watched an equestrian event like polo? Let me know in the comments.