Local Artist Spotlight: Donna Melton
The local artists of the Brandywine Valley have been a great inspiration for me as a jewelry maker. To pay homage to some of the talented illustrators and painters who live in our area, I have decided to feature some of my favorite local artists here at Chadds Ford Jewelry. When considering which artists to highlight, my first thoughts went immediately to local illustrator and friend Donna Melton. Donna, who creates beautiful watercolor designs, has just launched her own business, DHM Design, and I am excited to partner with her on a special offer while supplies last for the customers of Chadds Ford! In this article, I share a little bit about Donna and tell you about our exclusive Chadds Ford Jewelry x DHM Design offering!
Donna Melton is a long-time resident of Chester County, and she has worked as a graphic designer for over twenty-five years. After the passing of her husband, Donna began exploring the medium of watercolor as a hobby, taking immense inspiration from the beauty and history of the Brandywine Valley. After all, our region is steeped in artistic tradition: Howard Pyle, father of the famous Brandywine School style of art, inspired other famous artists like N.C. Wyeth, Frank E. Schoonover, and dozens of other important American illustrators right here in Chadds Ford!
Donna's watercolors are whimsical and beautiful, capturing the intricate and delicate nature of her subjects. Botanicals are her favorite focus, which she renders in a variety of styles. I am so glad that Donna has decided to create her own business and share her artwork with the world. It seems like just yesterday that I was doing the same with Chadds Ford Jewelry! This is why I wanted to partner with Donna to offer customers original artwork from this very talented local artist.
Chadds Ford Jewelry X DHM DESIGNS
Starting a business as an artist can be both exciting and overwhelming. Before Chadds Ford Jewelry, I had always yearned to share my creativity with the world, but I was nervous about managing all the different elements that come with opening a store. Looking back on the last few years, however, I can firmly say that moving forward with Chadds Ford Jewelry is the best thing I have ever done (aside from raising my beautiful children, of course). When Donna told me she was thinking about offering her artwork to customers, I was eager to find a way not only to support her work but also to share her art with my customers, as I knew you all would love her designs. Donna's watercolors exude the same whimsy and love of nature I try to espouse in my jewelry, so I thought the two would go perfectly together.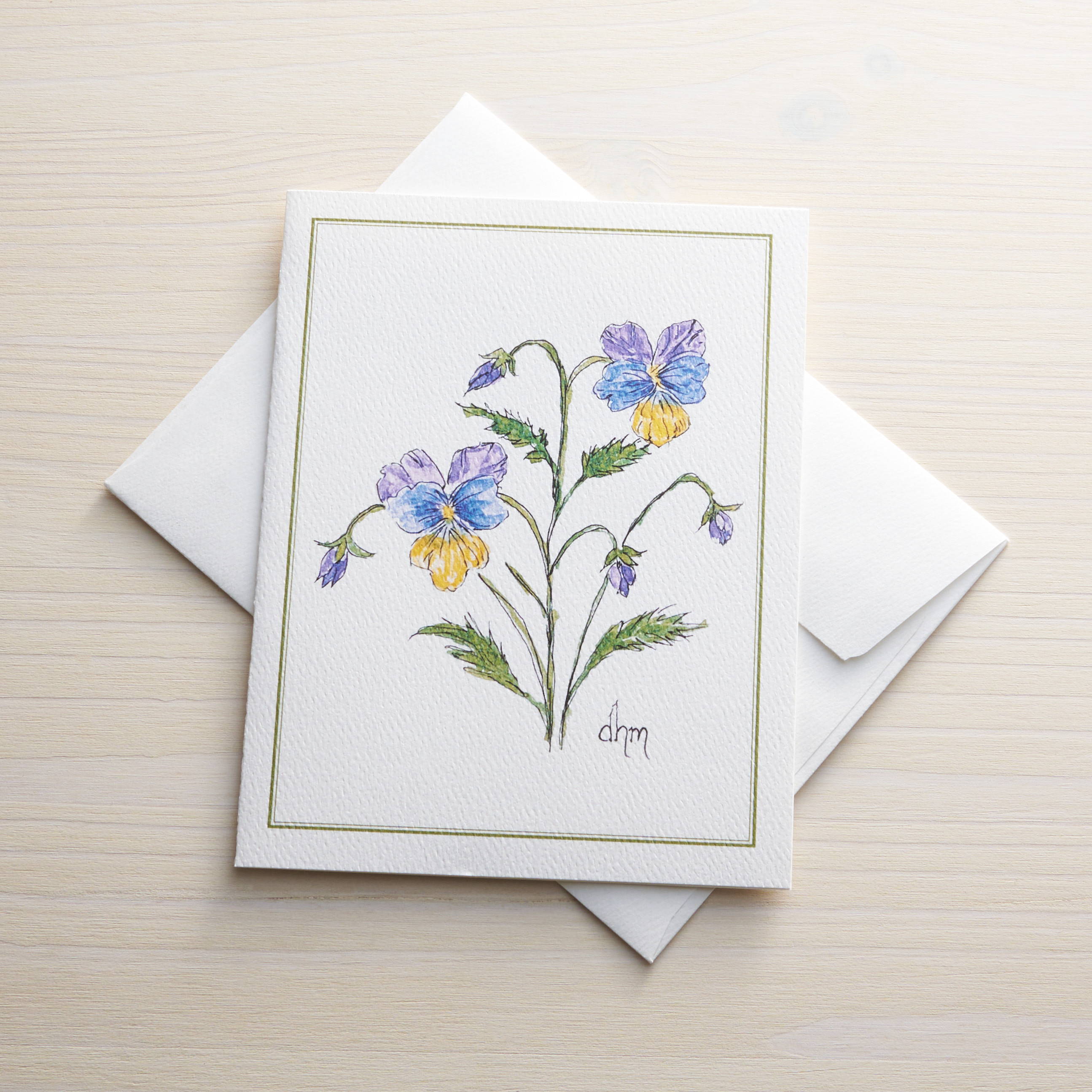 Donna's botanical greeting cards echo the magnificence of the great outdoors, and they are available in our shop today while supplies last!
The Importance of Letter Writing
In today's digital age, where communication is often instantaneous and remote, taking the time to write a letter or card can be a truly meaningful gesture. Handwritten letters and cards, especially those with original artwork like Donna's, have a personal touch that electronic messages simply cannot replicate, conveying a sense of warmth and thoughtfulness that can brighten someone's day. In a world where so much of our communication is digital and impersonal, receiving a handwritten letter or card can feel like a special and rare treat. Additionally, writing a letter or card can be a therapeutic and meditative practice, allowing us to slow down and reflect on our feelings and experiences. Whether it's a heartfelt note of appreciation or a simple greeting card, taking the time to write a letter or card can help us connect more deeply with our loved ones and make a lasting impression in a world that often moves too quickly.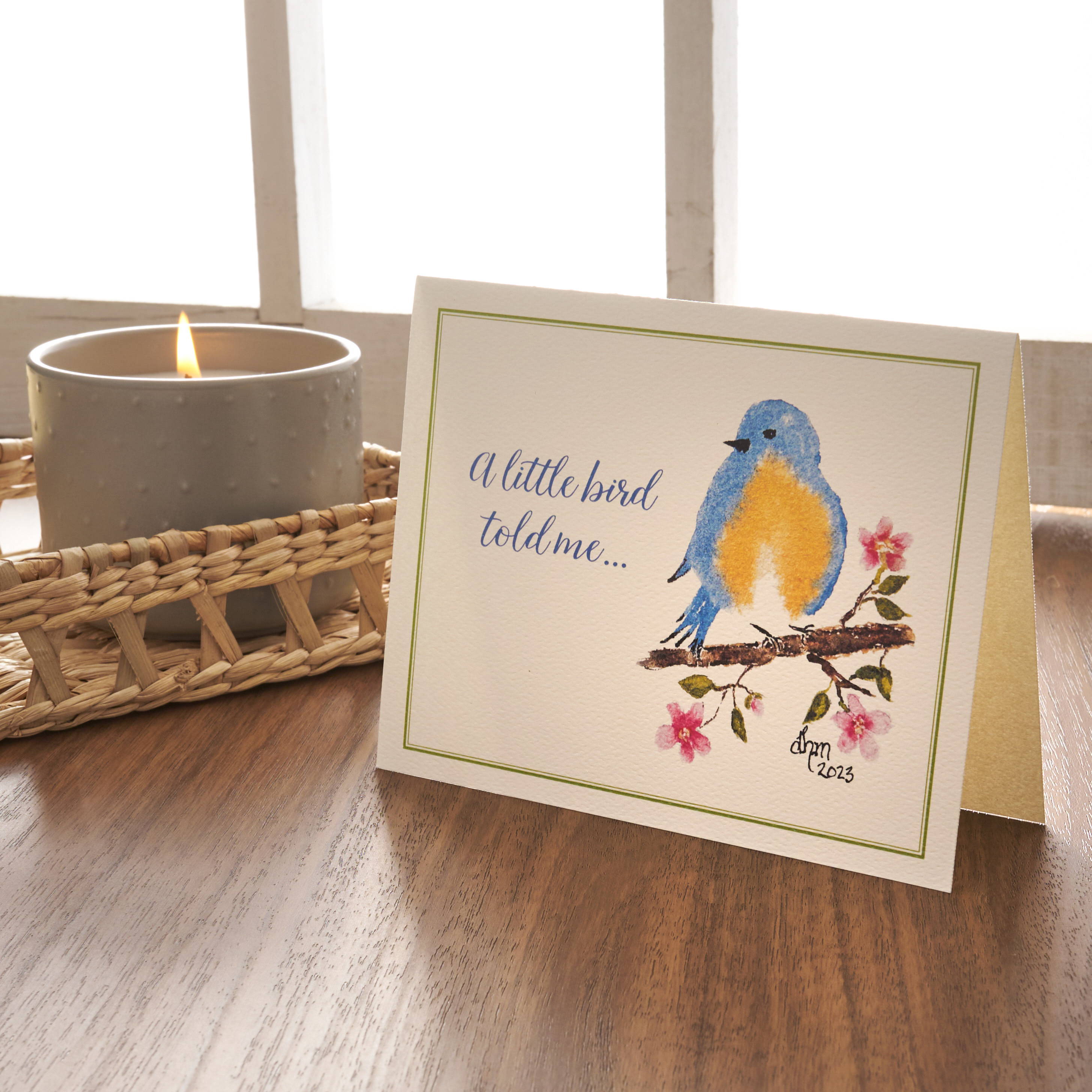 Supporting Local Artists matters
Supporting local artists and artisans is a wonderful way to give back to a community, and it helps to keep local art scenes and cultural identities alive and thriving. By supporting artists in our own communities, we can help to foster a sense of pride and appreciation for the unique artistic expression of our region. Additionally, supporting local artists can have a significant economic impact, helping to sustain small businesses and local economies. When you buy directly from artists like Donna or from me, you are directly contributing not only to our livelihoods but also to our communities. Moreover, supporting local artists provides a personal relationship with art and artists themselves! Donna and I both agree that we love feeling connected to our customers through our work. Whether you are already a Chadds Ford Jewelry customer or are new to my store, I want to take this opportunity to thank you for your encouragement! Donna and I are so grateful to have the support of so many as we navigate the exciting and sometimes quite complicated journey of artists turned business owners.
In today's world, it is more important than ever for local artists to support each other and work together to create thriving artistic communities. Donna's talent and dedication to her craft are truly inspiring, and her artwork captures the same whimsy of nature's beauty that I try to emulate in my own designs. By featuring Donna's prints, I hope to not only celebrate her individual creativity but also contribute to the growth and vitality of our local art scene. You can also join Donna's Facebook group to stay connected with her. Get your set of Donna's beautiful botanical greeting cards today before they run out!