How to Create the Perfect Garden Shed
How to Create the Perfect Garden Shed
If you are already thinking ahead to warmer times and sunny weather, why not get started on some organizational tasks for springtime! The first task I always think about when preparing for spring is getting my garden shed in order. Our garden shed houses so many important tasks throughout the year: it's where I store produce, grow seedlings, keep our tools and equipment, and even take a break from gardening, if necessary! Perhaps you already have a garden shed or maybe you're interested in adding one of these useful buildings to your property – either way, this article will give you all the tips and tricks you need to create the storage structure of your dreams.
Building a Garden Shed: Planning your Design
If you are thinking about building a garden shed, ordering one from a custom builder, or simply revamping an existing storage building on your property, take a few moments to plan your design. Consider the following essential questions:
Which size building do you need?

Which equipment will you store in the building?

What else do you need to store?

Which activities do you need to carry out inside your structure?

Do you need to have a garage door for machinery access (lawnmowers, tractors, gators, etc.)?

Do you want natural light inside the building?
If you are searching for someone to build your shed, finding a company who specializes in sheds and garden buildings is probably the best way to go. If you live anywhere near me here in Pennsylvania, there are many highly capable Amish builders in neighboring Lancaster County like Stolzfus Woodworks, who have a wide range of pre-built designs they can deliver to your property. Many of them also do custom builds, so simply reach out and ask if they could take a look at your plans! If you aren't in the Mid-Atlantic area, a quick Google should let you know who would be willing to deliver or build a garden building in your area.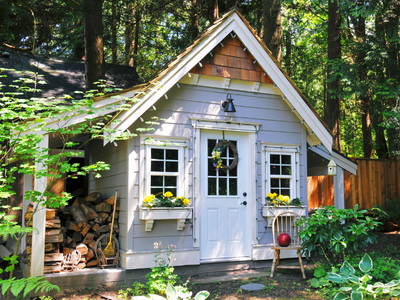 Set Up Areas for Each Task
If you are reorganizing an existing building, you'll want to take out all of your materials and equipment to get a good idea of how much space you really have – you might be surprised! We have done this a few times, and it is amazing how much clutter can be removed during this step. Looking at your plans, figure out which areas will work best for each storage area or task. At this time, you may also realize you need to invest in some additional storage containers, shelving, wall units, or furniture to make your vision possible. Another tip: make sure you leave enough space to reach and remove your items as necessary, and put any tools or containers you use frequently somewhere that makes them easy to access.
The Landscapes Collection
Finding the best way to store all of your important tools and items takes planning! There are many different routes you can go for storage solutions, and you can also mix and match. Here are some of the things we use in our garden shed:
A Pegboard. This allows you to hang yard and garden tools and other mobile shelving units in a manner that best suits your items. The nice thing about peg boards is that you can rearrange them at any time!

Hooks. Hanging large and small tools gets them out of that messy pile in the corner and makes them clearly visible and easy to access. Many tools come with a hole in the handle, where you can affix some twine to allow you to hang them. Use wall space for storage whenever you can!

Racks. If your tools are more unwieldy and aren't suitable to hang by hook, you can invest in a rack. These come in a variety of different designs that allow you to attach your tools by whatever way suits them best.

Shelves & Containers. Whether you plan to install traditional wooden shelves, invest in a few standalone indoor/outdoor units, or purchase a shelving system that can be affixed to the wall, shelves and containers are a great way to store your items. Keep in mind, though, that shelves will get dusty easily in a garden house setting, so plan to clean them off more than your other methods of storage.
Include a potting Station
If you find yourself making a mess while potting on your porch or driveway, including a potting station in your garden shed can be an excellent idea. This station can be as large as a built-in counter area or as small as a table with space beneath for pots and a bag of dirt. You can also use this area to raise your seedlings, so you'll need to determine whether you will need power outlets and places to hang grow lights for this process.
Sterling Silver Collection
Speaking of seeds, don't forget to store your seed packets somewhere safe to keep them in prime condition for when you'd like to plant them. Put them in an airtight container – ideally an opaque one – away from any forms of light, so their growth doesn't begin at the wrong time. Also, don't forget to keep an eye on temperature-sensitive seeds – some need to be frozen and thawed for specific periods of time before we can plant them!
Naturally, sheds and garden houses can get messy quite quickly. Keeping your area clean and neat can help you find things easily and feel good about going out to work in the garden. Sweeping out the shed and dusting the shelves prevents the build up of dirt and debris, while labeling items and keeping them in their designated spots makes things easy to locate. There is nothing more frustrating than looking for a specific tool, only to find that it's gone missing!
Whether your garden shed is just small enough to hold the essentials or large enough to store a tractor, keeping your storage structure organized, clean, and neat will allow you to find things quickly and cross important items off your to-do list. I've even added a few chairs and a table to my building, so I can take a break and work on my garden plans without having to take my boots off and go into the house. How do you keep your garden house organized? Let us know in the comments!