How to Choose the Perfect Christmas Decor
Christmas is such a magical time of year! Winter may be cold and blustery, but there's nothing quite as heartwarming as a dwelling that is decorated and glowing with Christmas cheer. Finding the right decorations to create that special, festive feeling, however, can be challenging! In this article, I'll give you my top tips for choosing the perfect Christmas decor for your home.
Adding a wreath to your front door creates a festive atmosphere from the moment anyone enters your home. If you're looking for something traditional, opt for an evergreen wreath with natural accents of berries, pinecones, and other fruits of nature. If you envision something a bit more off the beaten path, consider wreaths that incorporate the unique, soft greens of eucalyptus, or the cheery, bright hues of boxwood. You could also choose a wreath made entirely of red berries for a pop of color! To add a bit of Christmas flair to any wreath, consider adorning it with some ribbon, ornaments, or lights, depending on the style of your arrangement.
Many families consider the Christmas tree to be the pièce de résistance of their holiday decor. Some families (like mine) actually put up multiple trees throughout the house, each with a different theme! When planning your Christmas tree decor, take time to sit with your ideas and develop a design that meets your expectations. Consider the following questions:
What color scheme works best with your existing decor?

Do you want to follow a theme or a style of decoration?

Do you want warm or cool lighting?

Will you include ribbons or garland?

Do you want your ornaments to be uniform or eclectic?

Are there any other traditions or accents you want to include?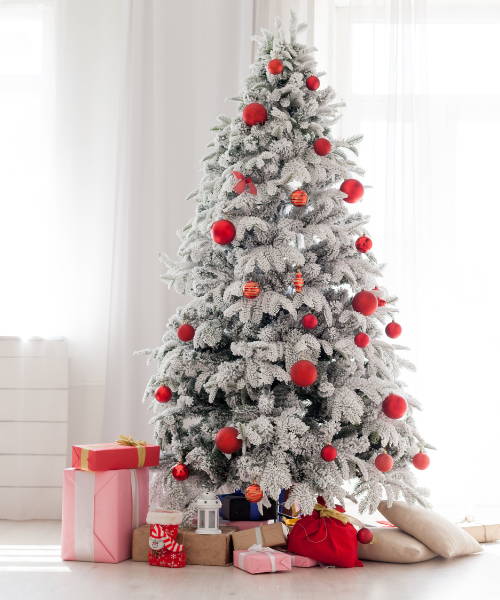 Adding some festive plants to your home can be a great way to tie your Christmas decor together throughout the house. Poinsettias, which feature beautiful red or white hues, are the traditional plant of the season, and they come in varying sizes – this means you can place them on countertops or on the floor in planters throughout your home. Alternatively, you could purchase some festive containers and include less traditional plants like succulents and cactuses for a more unique holiday presentation.
Unpacking my holiday decor really puts me in the festive mood! I have quite an array of pieces that are very sentimental to me – I even have a collection of hand-painted reindeer that my grandmother gave us when my husband and I first got married. In my experience, the key to choosing decor is to consider the overall style of your home and any design goals for your living space. If you're hoping to add a few key pieces to your seasonal collection, here are some accents to consider:
Containers filled with pine cones and berries
Candleholders and flameless/real candles

Christmas gnomes and/or nutcrackers

Signs with holiday phrases

Glass or ceramic displays with battery powered lights

Santa-inspired figures and dolls
If you really want to take your Christmas decor to the next level, don't forget to switch out your usual throw pillows and linens for festive alternatives. In many cases, you can simply buy Christmas-inspired covers for existing throw pillows and just change out the cover. Add fun accents to your kitchen and washrooms with seasonal towels, and consider swapping your regular bed sheets for a plaid or flannel set. These small touches really pull together the overall look of your home and decor.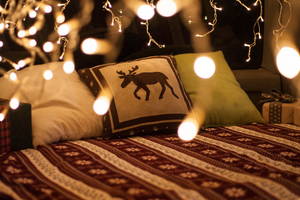 As the most recognizable hallmark of the holiday season, Christmas lights make everything a bit more merry and bright. Whether you're creating an elaborate outdoor setup or want something a bit more understated, these festive little balls of light can add the perfect touch to any holiday scene. When designing your displays and choosing your lights, there are a few important questions to consider:
Is there a particular style (i.e. traditional, modern, Victorian, etc.) that you're going for?

Do you want warm or cool lights? LED or incandescent?

Would you prefer an all-white light display or a colorful arrangement?

Would small or large bulbs better suit your vision?

Do you have any energy requirements?

How many strands of lights will you need to cover your desired area?
Whether you want to adorn an informal dining area or are setting the table for the big day, consider selecting table decorations that capture the beauty and magic of Christmas. To decide on the perfect design for your table decor, take a moment to plan your vision first. If you're going for a minimalist or rustic approach, then perhaps a small centerpiece of greenery on a bare farm table would appeal. If you want something more traditional, consider a white or cream tablecloth with a more ornate centerpiece – greenery with berries, pine cones, and even some candles would be delightful. Colored tablecloths can add a playful or dramatic feel to your table, depending on the hue and pattern you choose. White plates are almost always in style, but you could also opt for some Christmas-inspired place settings to really impress your guests!
Whether you're planning accents for every room in your house or are simply adding a few seasonal elements, decorating for Christmas is a wonderful way to kick off the festive period. I hope these ideas will inspire you to create decorative elements that you can love and enjoy every day of this merry time of year. If you are looking for Christmas gifts or want to don something festive of your own, don't forget to check out our keepsake jewelry collection available in the shop!