How to Arrange Flowers Like a Professional

While I love Chadds Ford, January here in Southeastern Pennsylvania can be a bit bleak. Once the holidays are over and the weather has turned gray, I often find myself looking for ways to add a bit of warmth and happiness back to our household. One small thing I've found to make a big difference is adding a few vibrant flower arrangements throughout our house -- this is an instant mood booster, bringing both peace and satisfaction to any room. Whether I am creating a bouquet of blooms from my own garden in the summer or arranging flowers I've bought from the supermarket during our gloomier months, I find that creating different displays can really lift my spirits and brighten my living spaces. If you also enjoy flower arranging or want to learn, I thought it might be useful to share the tips and tricks I've learned from the pros that have helped me improve my flower arranging over the years.
Set yourself up for success by having supplies on hand that will allow you to create your best work. I always make sure I have:
Flowers. This is the most important element, of course! Choose colors and textures that bring you happiness and match your decor. Adding a colorful arrangement to a room with muted tones is a lovely way to create a playful accent.

A Vase. Start with a clean vase, filled halfway with room temperature tap water. Laying out your blooms first is helpful because you may need to choose your vase depending on the length of your stems and the volume of your leaves and flowers.

Scissors. A pair of sharp scissors, preferably shears designed for cutting tough stems, will help your process go smoothly.

Knife. While not necessary, this piece of equipment can help remove rose thorns, which can make the flower arranging process far less enjoyable when left intact.

Flower Food. This can be purchased online, from a florist, or even made at home – I use this recipe.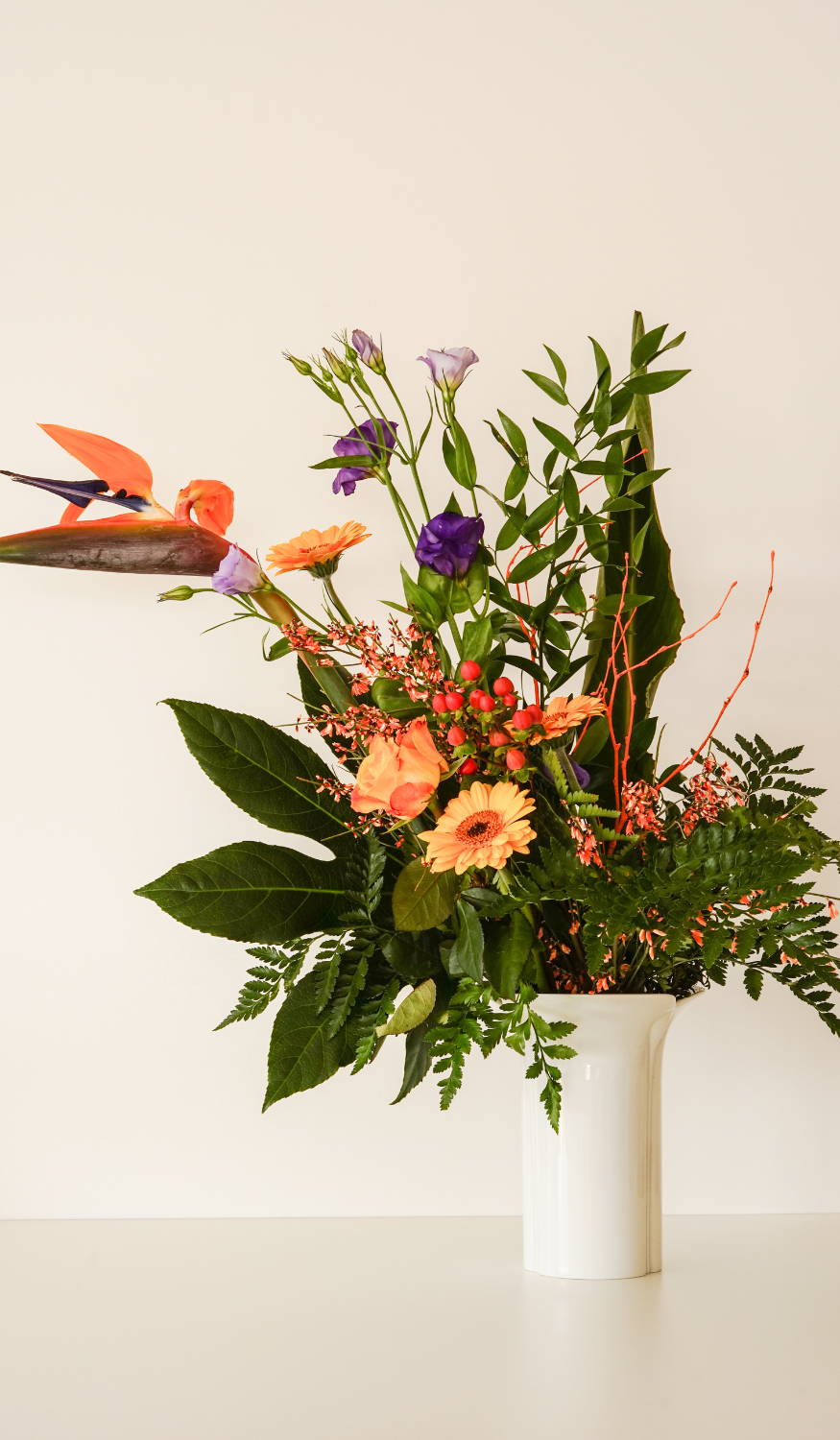 Preparing your blooms and stems before placing them in your vase ensures that your flowers will last as long as possible. Here are three preparation principles I follow before beginning my arrangement:
Remove Foliage: If this isn't your first ranunculus rodeo, you know that you need to remove the lower leaves from your stems before putting them in water. This is important because it will prevent the leaves from decomposing in the water, which often leaves behind nasty bacteria and unpleasant odors.

Wrangle Your Roses: Using your knife, carefully remove the thorns from your roses. You may also need to remove any guard petals on the exterior of your rosy blooms – these petals are meant to protect the inner petals, and they sometimes become discolored.

Cut Your Flowers: Help your flowers last by giving each stem a fresh cut before you place it into the vase. This is especially important for roses, as their stems can seal quite quickly. Cut your stems on an angle to help the flowers take in more water – this will allow them to stay alive longer.
7 Important Tips for Arranging Flowers
Let your vase lead the way
The shape and height of your vase can help you better envision how your arrangement might look. If you have large, voluptuous blossoms, a vase with a wide opening can allow them ample space to bloom. If you are working with roses, something taller with a medium-sized opening can make a stunning display.
Embrace the Rule of Thirds
Most professionals advise that your arrangement should extend either ⅓ or ⅔ beyond the total height of the vase. This will depend on the shape of your vase and the weight of your flowers
Build out the base of your arrangement with leafy greens – eucalyptus, for example, creates an alluring accent for any seasonal bouquet with its muted color and fun texture.
Place your stems in the vase at an angle, criss-crossing them wherever necessary. This way, your display is more likely to stay steady, and it will appear effortless and natural. Avoid putting all stems in at the same angle, which will make your arrangement look stiff and uniform.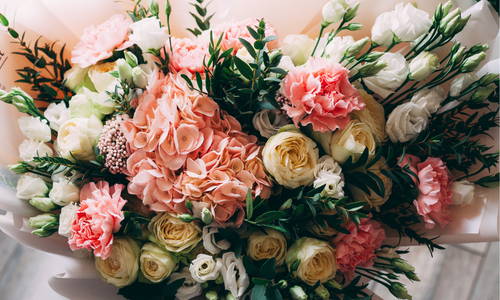 Once you've built out your base of greenery, move on to your medium-sized accent flowers. These blooms volumize your arrangement and add shape to your display. They are the supporting characters for your main event!
Once you've added greenery and accents, now it's time to let your most impressive blooms shine. You can use a centerpiece flower and build out from there, or you can add several showy blossoms throughout the arrangement.
It is easy to become focused on your favorite flower or colors, but don't forget to create a balanced arrangement. Use the rule of thirds again, and include odd numbers of the same bloom, spaced evenly throughout, for a stunning creation.
I have to say that even though I consider myself an avid flower arranger, I rarely love my creations on the first try. Don't be afraid to remove and replace blooms in different patterns to find the perfect balance. Which flowers do you love to include in your own flower arrangements? Let me know in the comments, and don't forget to browse our collection of nature-inspired jewelry today.