A Foray into Fine Jewelry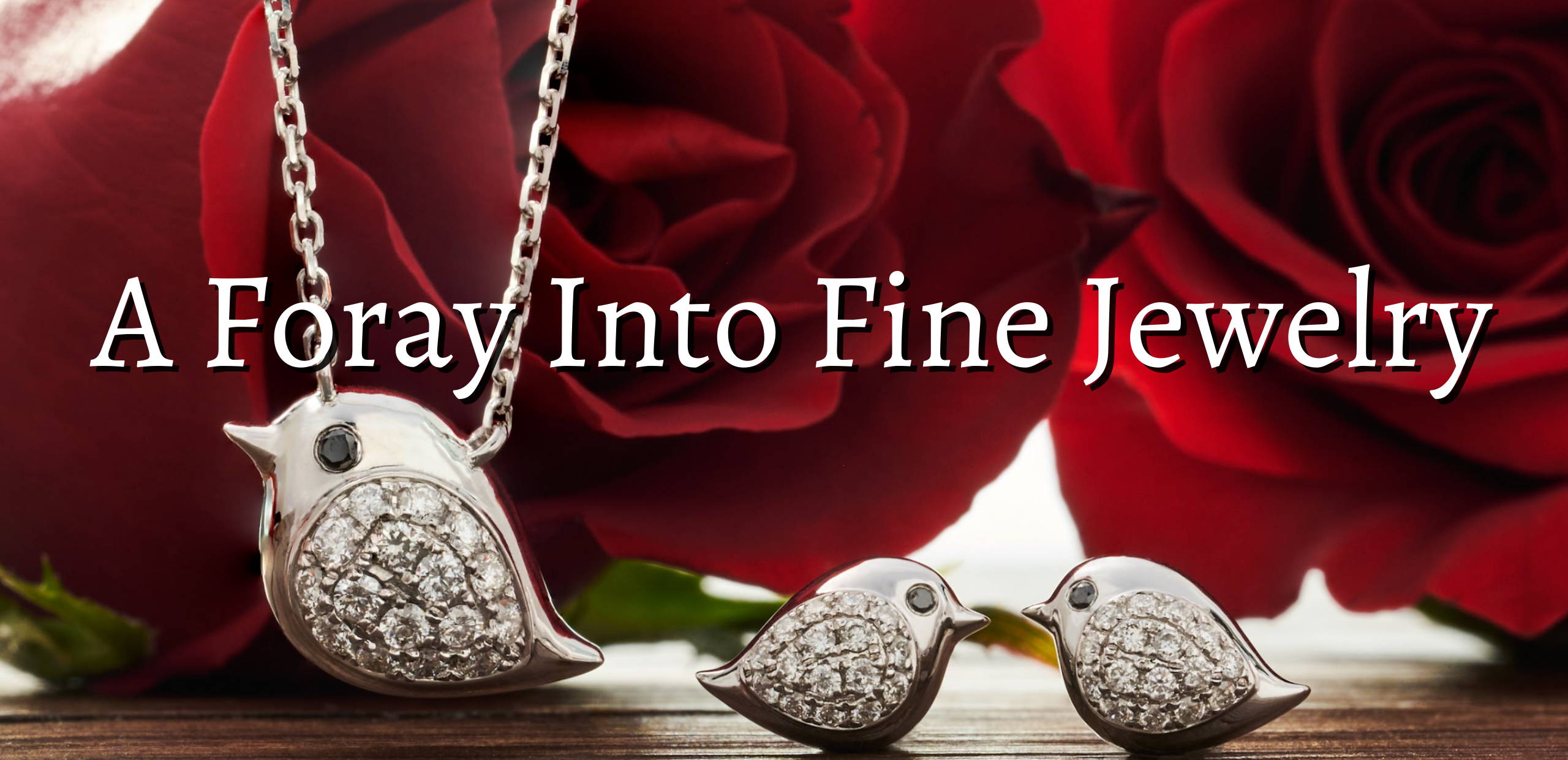 When I was young, I started designing jewelry as a way to connect with my creative side. I knew that I wanted to create wearable art, and I loved sharing my pieces with friends and family who admired my work. While it took me a long time to perfect my craft, those closest to me always seemed so appreciative when I gifted them pieces of my jewelry. As Chadds Ford Jewelry has grown, I have become more adventurous and experimental with my designs and materials. In fact, I have recently created a set of pieces that showcase some of my best jewelry making to date! In this article, I want to share a bit about the story behind my newest creations and how I hope they will influence the future of Chadds Ford Jewelry.
A Reflection on Jewelry Making
Around the holidays, I took some intentional time off from work to make special memories with my family and to really reflect on how far Chadds Ford Jewelry has come. I spent quite a bit of downtime in the studio leafing through old design sketch books and examining my original creations and remembering why I got into jewelry making in the first place. Jewelry design is such a personal endeavor – it allows me to use my artistic vision to create intricate, personal designs that my loved ones and supporters can wear and enjoy. While the beauty of Chadds Ford is of course a major influence on my jewelry designs, my friends, family, and customers like you really are the driving force behind why I do what I do. As I looked over each of my pieces in the studio, I realized that the true magic of Chadds Ford Jewelry lies in the love I put into each unique design – every piece is an homage to those who believe in my dreams. I am forever grateful for their (and your) encouragement!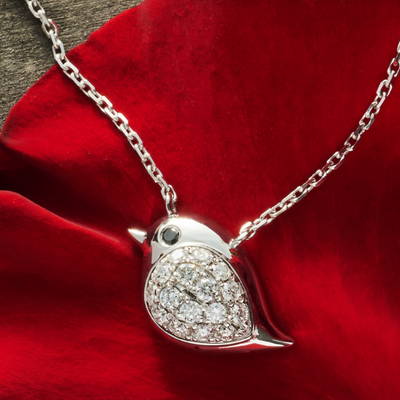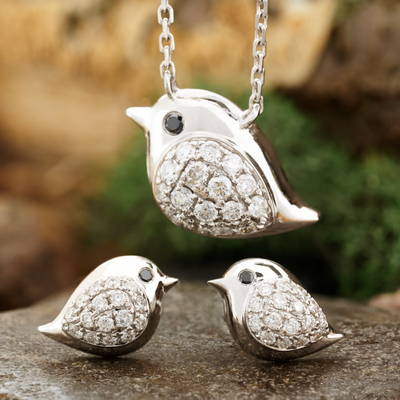 Buoyed by the beauty of the world around me and my appreciation for all who support my work, I am excited to pursue a new endeavor: working with pure precious metals. My very best friend has a heart of gold, so I knew it would be fitting to make my first pure gold design just for her. While I typically work only with gold plating, I knew that taking on the challenge of working with precious metal bases was a worthy task for this woman who means so much to me. I tapped other jewelry makers for advice, and they didn't disappoint! I learned so much about preparing, annealing, and soldering techniques that really made a difference as I went along. Ultimately, I decided to remake my most beautiful and classic design, Sand Birdie, into a matching necklace and stud earrings set (pictured to the left). These beautiful pieces are crafted from solid 18k white gold and showcase diamonds! It took several tries, but I am very proud of the final product.
I loved letting my friend know how much she means to me and watching her open her special gifts. She was so touched by these unique creations, and she encouraged me to consider prioritizing precious metal designs as offerings in my store. Before this endeavor, I would not have had the confidence to invest my time and resources into something like this, but seeing her reaction to pieces I was so proud of really moved me. While these keepsakes are not yet available in the shop, I am very eager to create pieces like this for sale!
Humans have been crafting jewelry from pure gold for at least six thousand years. Today, it is common for jewelry makers to alloy gold with other materials like silver, copper, zinc, and palladium to create a variety of eye-catching tones and finishes:
White gold. This alloy is my favorite and it's the one that I chose for my project! White gold features a combination of gold and either silver, nickel, or palladium. Its bright, glowing appearance resembles platinum, but it is often priced far more reasonably due to its composition.

Yellow gold. This alloy features a mixture of gold, copper, and silver, which creates a bold yellow tint. It often mimics the finish of vintage jewelry.

Rose gold. This alloy combines gold with copper, delivering rose gold's well-recognized pinkish hue. The saturation of rose gold can be altered by adjusting the ratio of copper to gold -- alloys featuring a higher level of copper appear rosier in color.
I knew that I wanted my designs to appear bright and sparkling, so there was never any question that I would use white gold for the base. But I went back-and-forth on purity for a while, as higher levels of purity are softer and more difficult to work with -- not to mention more expensive. In the end, 18k white gold seemed the best option for these two particular designs. Purity options common in jewelry include:
24k: contains 99.9% gold (most expensive)

18k: contains 75% gold and 25% silver, copper, zinc, and/or palladium

14k: contains 58.30% gold and 41.70% silver, copper, zinc, and/or palladium

10k: contains 41.70% gold and 58.30% silver, copper, zinc, and/or palladium

9k: contains 37.5% gold and 62.50% silver, copper, zinc, and/or palladium (least expensive)
Working With Gold & Diamonds: What I learned
Working with gold and diamonds required me to draw upon all of my available skills and patience. I couldn't afford to waste these precious materials, so I practiced first with more affordable metal alloys and cubic zirconia. Along the way, I definitely learned some things about working with precious metals and gems:
Use the right tools. I realized quickly that some of my usual tools would not yield the results I wanted when working with such delicate materials. Crafting with gold and diamonds requires specialized implements such as diamond-tipped drills, grinders, and polishing wheels, so I made a few upgrades.

Plan ahead. I usually go through a few iterations of a design before it reaches its final form. When working with expensive materials, any errors or last minute changes to the design can be costly, so I really had to focus both before and during the crafting process. This meant that I needed to create a quiet environment with no distractions or interruptions.

Don't be afraid to ask for help. There were a few times throughout this process where I knew I needed help. I drew on my connections within the jewelry making community, and they provided the most wonderful pieces of advice. I am so glad I reached out to them and that they were willing to guide me!
While this special set of jewelry is one-of-a-kind for a friend, I am looking forward to broadening our collections with new pieces of fine and demi-fine jewelry in the coming months. Because of my wonderful friends, family and customers like you, I have found the confidence and enthusiasm to move forward with this new era here at Chadds Ford Jewelry. I remain eternally grateful for both you and the beauty of nature that inspires me to create. Stay tuned!