5 Outdoor Ideas for Valentine's Day
5 Outdoor Valentine's Day Ideas
Each year, Valentine's Day presents the perfect opportunity to honor the relationships we have with our loved ones. While a romantic dinner for two or a night out is a classic way to spend time with someone special in your life, don't forget to think outside the box (or building), especially if your Valentine is a nature lover. If you want to plan an adventurous Valentine's Day celebration worthy of your outdoors-oriented significant other, here are five ideas that are certain to make them feel seen, appreciated, and loved.
Heading outside with your Valentine is a no-brainer for those who enjoy walking or hiking. If your loved one regularly goes for walks alone, ask if you can tag along on their usual route. While some prefer to hike or walk in solitude, your partner might appreciate your willingness to take part in something that is an important part of their everyday life. If you're both keen to try something new, consider researching new hiking or walking routes within driving distance that you both would enjoy. Consider your partner's needs and preferences when planning your hike – if they have any mobility restrictions, flat terrain with good footing will be important. If you and your partner are experienced hikers, try a more technical route for some added fun. Don't forget to pack water, snacks, and even a picnic if you're planning a longer walk or hike.
revisit meaningful locations
When looking back on their relationships, many couples can point to special experiences and locations that have meaningfully impacted their special bond. Whether you enjoyed a gorgeous sunset, spent a night gazing at the stars, or hiked a mountain together back when you were first getting to know one another, reconnecting with the places that have important meaning to both of you can be a sentimental way to celebrate Valentine's Day. If it's cold where you are, be sure to dress warmly, bring some blankets, and pack refreshments – a romantic picnic, a thermos filled with your favorite hot drink, and some snacks for any hiking excursions will go a long way. If you're really hoping to delight your Valentine, you could consider keeping your trip as a surprise – chances are they will be delighted that you remembered and cherished such an important memory in your shared life together.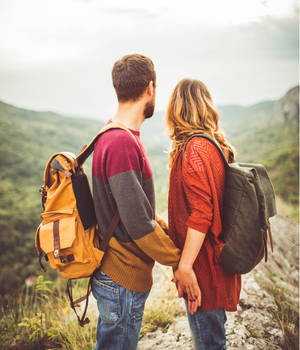 While February is quite chilly in many parts of the country, camping can still be a wonderful option for a romantic Valentine's Day getaway. Spending a weekend disconnected from computers, cell phones, and other distractions allows couples to reconnect and remember all of the wonderful things about their relationship – and what better time to do so than on this romantic holiday! If you are planning a camping trip in one of the colder parts of the country, be sure to equip yourself and your partner with all the necessary cold-weather camping gear you'll need to be comfortable and successful. Don't forget to look up amenities and hiking routes ahead of time so you can be totally prepared for everything your camping experience has to offer. For additional comfort, also consider researching local restaurants, lodges, hotels, and coffee shops in case you'd like to dip a toe back into civilization during your experience outdoors.
The Landscapes Collection
If you live in one of the colder parts of North America during the winter, heading to your nearest mountain is an excellent way to celebrate Valentine's Day with your love. If your partner enjoys winter sports, consider shredding some fresh powder with them on skis or snowboards. If you are both inexperienced, signing up for some lessons with an instructor will provide a lighthearted adventure that will hopefully have you both laughing the whole time. If you're looking for something a bit more low-key, snow tubing is a fantastic, fun option for outdoor enthusiasts of any age. One of the best parts of mountain sports is coming into a warm lodge at the end of the day, sitting by the fire with your feet up, and sipping a hot drink – sharing this special experience with your partner will make it even more lovely and romantic.
While Valentine's Day falls on a Tuesday this year, that doesn't mean you can't take your sweetheart away for the weekend before or after this romantic holiday. Planning a romantic weekend trip can bring the perfect amount of surprise, newness, and adventure to your relationship, while also allowing you to focus on relaxation and reconnection in this very busy world. Here are a few romantic weekend getaway ideas that are certainly to set your Valentine's heart on fire:
Head to a cottage in the mountains

Enjoy historical landmarks
Sterling Silver Collection
This Valentine's Day, celebrate someone you love by doing something outdoors. Being in nature provides a wonderful opportunity to reconnect and be mindful without the eternal distraction of our screens and devices. Show your partner how much you care by giving them your undivided attention and planning a day full of wholesome, adventurous fun. If you're looking for the perfect gift for your nature-loving Valentine, don't forget to browse our inspired collection of natural keepsakes today.