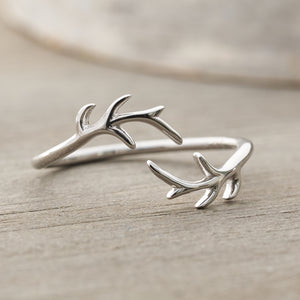 Elegant and rustic, the Sterling Silver Antler Ring is a must-have accessory.
Fashioned from sterling silver, this ring is the perfect keepsake for your favorite outdoors-enthusiast.
"Your growing antlers are proof of your intimate place in the forest—for of all the things that live and grow only the trees and the deer shed their foliage each year and replace it more strongly, more magnificently, in the spring."  —Felix Salten
100% High-Quality Sterling Silver
Hypoallergenic & Nickel-Free
Adjustable Size
Our Collections:
We invite you to indulge in the exquisite allure of our handcrafted country- and nature-themed jewelry collections. From keepsake earrings and necklaces to bracelets and rings, each piece emanates a timeless beauty and undeniable charm. Whether you find solace in the serenity of nature or simply appreciate the rustic elegance that it embodies, our jewelry is sure to leave a lasting impression. Embark on a captivating journey with us and discover treasures which effortlessly reflect the enchanting splendor of the natural world.